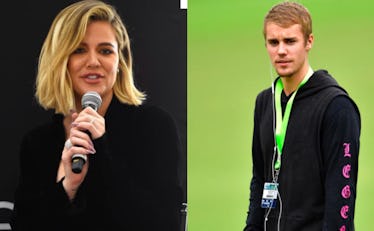 These 10 Celebrities Got Tattoos For Love & My Mind Is Blown
Jamie McCarthy/Getty Images Entertainment/Getty Images + Stuart Franklin/Getty Images Sport/Getty Images
People say that true love lasts forever — but what happens if you find multiple soulmates within one lifetime? One way to ensure that a piece of their heart will always live on together with yours is to literally and permanently solidify your connection: getting body art to commemorate your time together. At least I'm assuming that's what these celebrities with tattoos for their significant others were thinking, right before taking a seat in the parlor chair and getting inked for life.
Tattoos have always been a somewhat polarizing topic of conversation. Some see the body as a canvas, and tattoos as a deeply personal, artistic expression. Others dislike the idea of making an altercation to your body that can be quite difficult (and expensive) to take back. If somebody chooses to declare their devotion to their partner on their lower back or bicep, it is 100 percent within their right to do so, without judgment. Yes, even if that somebody is Justin Bieber.
Here are 10 celebrities with tattoos that are rooted in romance.