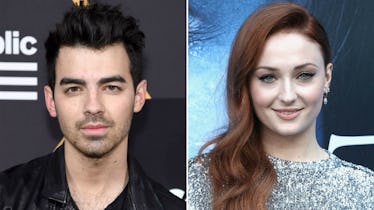 Joe Jonas & Sophie Turner Got Matching Tattoos That Have A Special Meaning & It's Beautiful
Jamie McCarthy/Getty Images Entertainment/Getty Images | Frederick M. Brown/Getty Images Entertainment/Getty Images
While everyone's talking endlessly about Ariana Grande and Pete Davidson or even Justin Bieber and Hailey Baldwin, there's one engaged couple that seems to have gotten lost in the mix: Joe Jonas and Sophie Turner. The adorable couple, who got engaged in late 2017, are making headlines right now because they've just done the cutest thing ever: they got matching tattoos. And there's a surprising meaning behind them. Joe Jonas and Sophie Turner's matching tattoos honor both their grandfathers, which is a really touching gesture.
On Friday, July 20, Jonas and Turner headed out to Bang Bang Tattoo in New York City to get their new tats. Turner went with a simple letter G to honor her grandad.
"For my grandad. My hero," Turner captioned her Instagram of the tiny tat.
Jonas, on the other hand, went with a portrait of his grandfather. "For PaPa Miller. Thank you," Jonas said in his own Instagram post. His post also included the real photo of his grandfather that his new tattoo is based on. The photo shows Jonas' grandfather standing outside in his U.S. Army uniform. What a sweet way for Jonas to pay homage to him and his service!
In both posts, Jonas and Turner credited Mr. K of Bang Bang Tattoos as being the artist behind their beautiful tattoos.
Here's a look at Turner's new tattoo:
And here's Jonas':
Both are really elegant and have an old-timey feel to them. Classy!
These aren't the first tattoos for Jonas or Turner. Jonas has a slew of them, including a portrait that kind of looks like Turner if you squint a little. Turner, on the other hand, has at least one other and it's related to Game of Thrones. She reportedly also has one that matches the portrait Jonas has on his forearm.
Jonas also has this one, which he shared on his Instagram on Monday, July 23:
Fans went wild over the couple's new tattoos (as is always the case when a Jonas brother does anything).
One fan praised Jonas' choice of a memorial tattoo, writing, "Amazing. I think the memorial tattoos are the best 🙏🏼❤️ (I have one too for my dad and I love it)."
Another fan was super enthusiastic about how the tattoo turned out. "I can't wait to see how it heals," they said. "Wow the linework!! it's fantastic."
And yet another was really moved by the intent behind the tattoo, commenting, "Aww, I'm gonna cry. Joseph this is such a beautiful tribute to him, I'm sure if he was still here he would love it 😊🤗❤"
Turner also received a lot of fan comments about her new tattoo.
"Love the tattoo....very nice, very simple but yet it looks very meaningful!!!!" one fan wrote.
Another fan wasn't really sure what the tattoo was, but they loved it anyway. "I don't really understand what it is, but it's absolutely beautiful!!! 😍😍😍," they wrote.
Both tattoos are genuinely beautiful, as is the sentiment behind them. And it seems like Jonas and Turner are really happy with how they turned out!