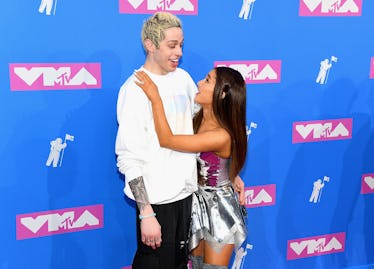 Pete Davidson Got ANOTHER Tattoo For Ariana Grande, Because This Love Is Forever
Nicholas Hunt/Getty Images Entertainment/Getty Images
Pete Davidson has a lot of freaking tattoos — a portrait of Hillary Clinton on his forearm, the Dumbledore quote on his inner arm, the set of bold stripes on his finger — and it doesn't look like he plans on slowing down any time soon. Lately, he's appeared to be super inspired by his whirlwind romance to Ariana Grande, tattooing various designs inspired by the "God is a woman" singer across his body, from their matching "reborn" tattoos to his bunny ears tattoo, a reference to Grande's 2016 album, Dangerous Woman. And now, he's added yet another tattoo to his ever-growing collection of Ariana-inspired body ink that you've gotta see. Pete Davidson's Breakfast at Tiffany's tattoo is truly proving just how serious he is about their love.
According to Cosmopolitan, photographers noticed the new ink on the back of Davidson's neck while he was walking around New York City on Thursday, Sept. 20. It reportedly says "mille tendresse," which means "a thousand tendernesses," a popular reference to the legendary film spoken by Audrey Hepburn's character. The line goes:
Bless you, darling Fred. Please forgive the other night. You were an angel about the whole thing. Mille tendresse.
Here's Grande's version:
OK, I'll give it to him: this is pretty romantic, considering Breakfast at Tiffany's is reportedly Grande's favorite film of all time. She apparently loves it so much that she got the same design tattooed on the back of her neck in 2014, which shows that Davidson is really taking the whole "becoming one" motto serious with his lady ahead of their upcoming wedding.
In addition to his latest stamp, the Saturday Night Live star has a tattoo of Grande's initials on his finger, a tattoo of their new pet pig "Piggy Smallz" on his torso, a sprawling tattoo of her last name across his ribcage, and more. (We might be here all day if I actually tried to sit here and count them off to you guys.)
Together, Davidson and Grande also share a multitude of matching tattoos. They both have "H2GKMO" — an abbreviation of Grande's favorite saying, "Honest to God, knock me out." There's also the "8418" tattoo in honor of Davidson's late father who died in the Sept. 11, 2001 attacks, which she has on her ankle and he has on his arm. Then, they have clouds on their fingers and the word "reborn." In other words, these two have been all about showing how head-over-heels in love they are for each other.
However, there are some people who have already tried to urge Davidson to chill a bit on his relationship-inspired ink, including tattoo artist Jon Mesa. According to Page Six, he reportedly told the 24-year-old that maybe he should slow his stride on the girlfriend-inspired tattoos after covering up one of ex-flame Cazzie David.
"So I did a huge coverup [adding a forest of trees]...After we were done, I told Pete, 'Hey, dude, let's just stop with the girlfriend tats until after [Ariana's] your wife,'" Mesa explained to the publication. "Because relationships come and go, and Pete is a really young man. [But] I think that went in one ear and out the other."
Clearly. But if Pete and Ariana like it, then I love it.