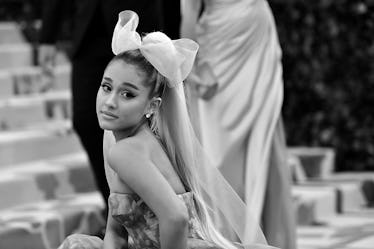 Ariana Grande's Wedding Style Could Involve Thigh High Boots & I'm Here For It
Jason Kempin/Getty Images Entertainment/Getty Images
Before the royal wedding, editors, fans, and designers alike speculated the heck out of what Meghan Markle would wear for the big day. Now, there's a new bride-to-be in town whose look is equally as anticipated. Ariana Grande's wedding dress will be a huge reveal within the fashion world and beyond seeing as the starlet has close ties to numerous highbrow designers and sticks very closely to her well-defined personal style. In other words, her wedding look could very likely remain along the lines of what we've seen her in on the red carpet time and time again, but if it were to deviate from that norm people would likely freak out.
When the news broke just under a few weeks ago that Ariana Grande and Pete Davidson were engaged, my mouth hung agape for a good few seconds before I could collect myself and my dripping saliva. Grande and her ex-boyfriend, Mac Miller, had only broken up a month prior and it was largely unknown that she and Davidson were even dating. But as they say, when you know, you know, so congratulations to the happy couple, I suppose! They do look exceedingly infatuated with one another based on what's been posted on social media and what's been published by the media so hey, if this really is a genuine whirlwind romance then I am all about it.
It's always interesting to hear about surprise celebrity engagements and how they met, how the proposal went down, et cetera, but the most exciting part about this union, in particular, will undoubtedly be Grande's choice of wedding dress. (At least in my book.) The singer sticks to two very specific aesthetics whether on stage, on the red carpet, on Instagram, or simply while out doing errands, so my guess is her wedding look will swerve in the direction of one or the other.
Her first signature look is certainly her most worn: thigh high boots, an oversized t-shirt or mini dress, and her signature ponytail.
Seeing as Grande has worn some atypical (in the best way) looks throughout her career, I wouldn't put it past her to rock something similar to the above but in white for her wedding day. If she does go in this direction, I could see her wearing a high-low gown with daintier thigh-high shoes, maybe of the sandal or open-toe variation. I have a feeling her hair will be pulled into a ponytail for the big day seeing as it's another signature of hers but who knows, maybe she'll shock us and wear it down just as she did for her recent British Vogue cover.
Her next much-loved look is that of a super dramatic ballgown. She most recently wore such a dress to the Met Gala and completely stunned in the Vera Wang gown. (Vera Wang is known for her wedding creations, could she be a frontrunner in terms of Grande's dress designer?)
As in the photo of Grande performing on stage, she also wore a giant bow in her hair to the Met Gala. Is this another trend she'll be continuing on her wedding day?
As with Markle's dress, we'll likely have to wait until Grande's wedding to find out any further details about it. Who knows, the singer could wear something completely out of left field like a super simple slip dress or traditional lacy gown. One thing's for sure: Grande will look gorgeous in no matter what she wears and just might bring Davidson to tears when she walks down the aisle. Have you seen their sappy Instagram posts to one another? Yep, he's totally smitten.