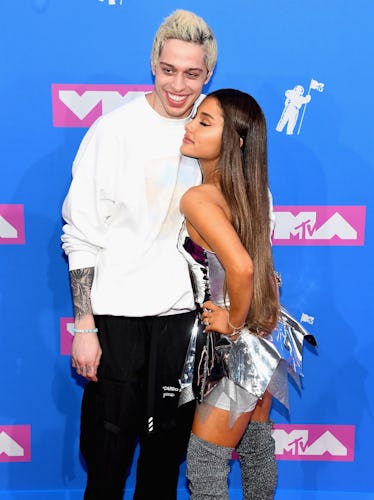 Pete Davidson's Latest Tattoo Is All About Showing Off His Love For Ariana Grande
Nicholas Hunt/Getty Images Entertainment/Getty Images
Pete Davidson has no qualms about inking his body in honor of fiancée Ariana Grande, and he just pulled his grandest move yet. Recent photos from New York Fashion Week show that Pete Davidson's "Grande" tattoo is his newest ink, and it's his biggest tribute to his bride-to-be thus far. The comedian literally covered his rib cage with his undying love for the singer, and the new tat proves that he's all about going big or going home.
On Friday, Sept. 7, Cosmopolitan first spotted the bold script while the SNL funnyman was hanging out at New York Fashion Week with Justin Bieber and Hailey Baldwin, who notably also had a quicker-than-quick engagement. In the sweltering heat (it was reportedly 100 degrees), Davidson decided to do what any self respecting person would do and try to cool off. He shed his long sleeved white shirt in favor of going shirtless, and photographers caught quite the eyeful when he bared it all. Among Davidson's extensive tattoo collection, the words "Grande" written in cursive across his rib cage really stood out.
Davidson already has a few permanent homages to Grande on his body, including her initials on his thumb and a Dangerous Woman album reference, courtesy of a pair of bunny ears, tattooed behind his ear. The couple also has matching tattoos with the word "HTGKMO," which signifies Grande's favorite phrase, "Honest to God, knock me out." In other words, these lovebirds are all about writing their everlasting love to each other in permanent ink. However, the comedian's newest "Grande" tribute is his most ostentatious and in-your-face one yet.
Here it is closer up for your viewing pleasure.
The cursive monogram wasn't Davidson's only new addition. Fans also noticed that the star had covered up an old chest tattoo that he had gotten earlier this year, according to INSIDER. The phrase, "Jokes come and go but swag is forever" is now covered up with an image of a large shark coming out of the water. I'm still scratching my head over the meaning on this one, but you do you, Pete.
While wedding planning is well underway, Davidson doesn't seem like he's ready to call it quits on new Ariana-inspired tattoos before the big day. According to Page Six, tattoo artist Jon Mesa told the 24-year-old that maybe he should slow his stride on the girlfriend-inspired tattoos after covering up one of ex-flame Cazzie David.
"So I did a huge coverup [adding a forest of trees]...After we were done, I told Pete, 'Hey, dude, let's just stop with the girlfriend tats until after [Ariana's] your wife,'" Mesa said to the publication. "Because relationships come and go, and Pete is a really young man. [But] I think that went in one ear and out the other."
That being said, he admitted that he thinks their whirlwind romance is for real. "They are just riding that magical wave of bliss together," he said. "It's obvious that Pete is super in love with Ariana."
If anything, Davidson's tattoo tributes to his love are becoming more elaborate, and I wouldn't be surprised if he gets some extra special ink in honor of their wedding day.