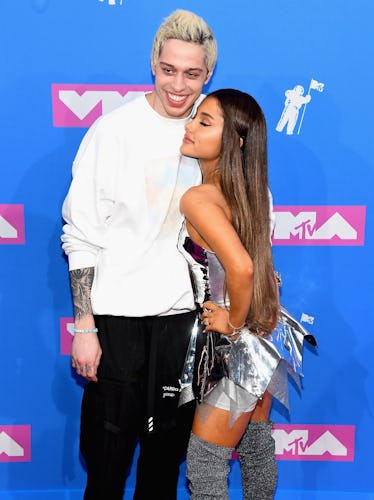 Ariana Grande & Pete Davidson May Have Taken Another Step Forward In Their Relationship
Nicholas Hunt/Getty Images Entertainment/Getty Images
RED ALERT: Ariana Grande and Pete Davidson might have gotten a pet pig. This is not a drill. The singer revealed a little angel baby pig on her Instagram this weekend, and Ariana Grande and Pete Davidson's possible pet pig just made me scream to my roommates "LADIES, WE NEED A TEACUP PIG!" (We already have a dog and two domesticated rats. We do not need more pets.)
Grande posted the sweetest photos and videos of the little pig to her Instagram this weekend. It's not clear if this is her and Davidson's first pet together (I really hope it is because I need to see more of this baby pig content) or if it's the kind of situation where a friend of theirs got a new pet and she got to play with it for a few hours. Either way, I need this baby pig in my life every day. Make this pig an Instagram account immediately.
Grande has been grieving Mac Miller ever since his death on Sept. 7. In the middle of all of that heavy emotional labor, I'm sure this little pig (whether it's her new pet or not) served as a great emotional support animal for the singer.
One of the photos of the little pig showed it seemingly laying on Pete Davidson's lap. Can't. Handle. That. Face.
Grande also posted a selfie video of the little nugget sitting on her shoulder.
And here's the little baby's face one more time for good measure.
Have you ever seen anything so pure? This is a blessed image. Which explains why Pete Davidson has already given the cute little pig the tattoo treatment.
Can we assume from Davidson's new tattoo that their possible pet pig's name is Piggy Smallz? I love this whole situation even more now.
Grande deserves some R&R after the events of the last few weeks. On top of her grieving the death of her ex-boyfriend whom she always loved even after their breakup, people were blaming her for Miller's reported overdose. She seemingly responded to the hateful comments by turning off her Instagram comments.
She posted several tributes to Miller on her Instagram, but only made one comment about his death. Grande's tribute to Mac Miller said,
i adored you from the day i met you when i was nineteen and i always will. i can't believe you aren't here anymore. i really can't wrap my head around it. we talked about this. so many times. i'm so mad, i'm so sad i don't know what to do. you were my dearest friend. for so long. above anything else. i'm so sorry i couldn't fix or take your pain away. i really wanted to. the kindest, sweetest soul with demons he never deserved. i hope you're okay now. rest.
Gut-wrenching.
She also listened to his music to help her cope with the grief like many fans of Miller are doing following his death. (Swimming entered the top 10 on the Billboard Top 200 chart after news of his death came to light, and industry forecasters are predicting that almost all of his albums could enter the Top 200 chart in the coming week.)
Dear little Piggy Smallz, please help Ari feel better.