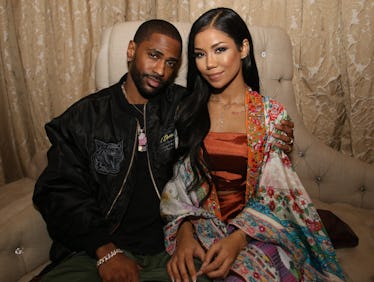 Here's Big Sean & Jhené Aiko's Relationship History, 'Cause It's *Complicated*
Thaddaeus McAdams/FilmMagic/Getty Images
I don't know about you, but I positively *live* for music industry power couples. Case in point: Big Sean and Jhené Aiko, who between them, have a handful of chart-topping songs and Grammy nominations. But beyond crushing it in their careers, they've also developed a powerful romance that just won't seem to quit. Trust me when I say that Big Sean and Jhené Aiko's relationship timeline is quite the rollercoaster ride, and I'm about to bring you along with me for all the twists and turns.
Jhené and Sean have a long, complicated history. While they dated for about three years before officially calling it quits in March 2019, it appears as if they may have reunited at the end of 2019. Long before they were a couple, however, the two were friends and collaborators. In a candid interview with BBC Radio 1Xtra, Jhené explained how when Sean first asked her out, they only chilled together as friends because she still had a boyfriend at the time. Once her relationship ended (after she discovered her then-boyfriend was secretly married — yikes), she finally decided to shoot her shot with Sean. The only problem? Sean was already dating someone else (likely Glee's Naya Rivera). As you may or may not know, Sean went on to date Ariana Grande, and Jhené got married to Dot da Genius before their relationship would ever finally become a reality.
As they say, good things come to those who wait — and despite poor timing getting in the way of Sean and Jhené's connection, they finally found their way back to each other in 2016. Since then, there's been a few bumps but also many beautiful moments along the way. Here's a deep dive into the legendary love story that is Big Aiko.