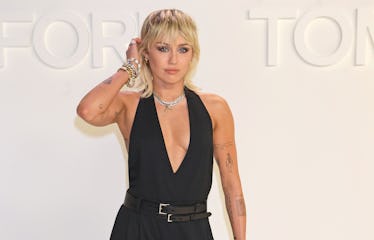 These 13 Celebrity Breakup Tattoos Are Actually Iconic
David M. Benett/Getty Images Entertainment/Getty Images
Post-breakup makeovers aren't for everyone, but IMO, changing up your look can help you heal from heartbreak. That could mean getting bangs, or piercing your belly button, or even doing something as simple as painting your toenails neon green when you usually stick to pink polish. But for some people, ending a relationship calls for a more dramatic change, and if you're looking to bring the drama, then you should check out some celebrity breakup tattoos for inspo.
The problem with getting a couples' tattoo: potentially breaking up. For people with ink dedicated to an ex, a breakup can mean having to get that tat covered or removed... or just having a reminder of their ex etched on them forever. But rather than cover something up, breakup tattoos allow you to celebrate yourself and the next chapter of your life. Celebrities who've gotten new ink pieces following a split often choose uplifting images and phrases, and the result can be so meaningful.
Some A-listers have waited months after a breakup to get inked. Others dropped by the tattoo parlor less than a week after a split. But no matter the process or reasoning, there's no denying these celeb breakup tattoos are legendary.