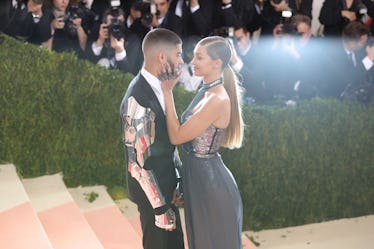 Gigi Hadid & Zayn Malik Reportedly Split After 2 Years Together & I'm Not OK – UPDATE
Neilson Barnard/Getty Images Entertainment/Getty Images
WHY IS THIS HAPPENING TO ME? There are rumors that Gigi Hadid and Zayn Malik reportedly broke up, and honestly, what did any of us do to deserve this? Fans are devastated since The Sun first broke the news, and Hadid hasn't called me yet, so I don't know what to tell you guys. According to the report, Hadid and Malik called their relationship quits after two years together. Elite Daily reached out to both Hadid's and Malik's teams for comment and confirmation of the report, but did not hear back by the time of publication. Neither party has confirmed the news, so right now there is just speculation. But, yeah. It's enough to make me call out of work and stare at a wall.
UPDATE: Zayn Malik has confirmed he and Gigi Hadid have split up. The musician took to Twitter on Tuesday, March 13, writing, "Gigi and I had an incredibly meaningful, loving and fun relationship and I have a huge amount of respect and adoration for Gigi as a woman and a friend. She's such an incredible soul. I'm grateful to all of our fans for respecting this difficult decision and our privacy at this time, we wish this news could have come from us first. We love you all. xZ"
On the same day, Gigi Hadid shared the following statement: "Breakup statements often seem impersonal because there is really no way to put into words what two people experience together over a few years .. not only in the relationship, but in life in general. I'm forever grateful for the love, time, and life lessons that Z and I shared. I want nothing but the best for him and will continue to support him as a friend that I have immense respect and love for. As for the future, whatever's meant to be will always be. xG"
EARLIER: According to the report, the couple split due to "work pressures," which is understandable enough. At 22 years old, Hadid is one of today's most successful supermodels and Malik has enjoyed a rocking solo career since leaving the band, One Direction. "They are no longer a couple but they do remain close and are supportive of each other," a source close to the couple reportedly said. "The reality is that they've grown apart, having been together for a long time."
But, but, but, that can't be! It was just yesterday that Hadid shared the sweetest birthday post on Instagram for her love, Malik. OK, technically it was Jan. 12, but that was three months ago which is BASICALLY yesterday. At the time, Hadid posted intimate photos and videos of herself and Malik smooching and hanging out like the happiest couple in Hollywood. She captioned the series,
love this man more than I could ever put into words, & am inspired by his drive to be and do better everyday ✨ cheers to YOUR YEAR my @zayn - happiest happiest birthday & 25th year of life !! I'm proud to be by your side x
Sure, she suspiciously didn't post anything on Valentine's Day, but it's not a rule that she has to! If you peek into Malik's feed, he definitely has an affinity for himself shirtless. JUST SAYIN'. You also have to scroll a super long time to stumble across an old Gigi post.
In doing a quick search, it looks like Malik no longer follows Hadid, though she still follows him on Instagram.
Oof. My heart.
According to the insider, the breakup was a mutual decision. They said,
They both have respect for each other. It's a mutual decision so no one has completely ruled out a reunion in the future, but for now that's not where their heads are at.
While both parties have yet to comment publicly on their rumored split, Malik did post a suspicious caption on Instagram. The image is nothing out of the ordinary. It's just a moody looking Malik, as per usual. But, fans are wondering what the caption accompanying the photo really is all about.
He wrote: "When Life throws you lemons, catch em so they don't hit you in the f*cking face."
Geez, angsty much?
Of course, fans are devastated. In theory, the public should be able to understand these two people are both so, so young, and it was also totally possible for things to end. It just felt so REAL, ya know?
Twitter is crushed.
For now, all fans can do is sit and wait to hear it from Malik and Hadid themselves. In the meantime, I'll be staring at that wall I told you guys about...
HANG IN THERE EVERYONE. BE SAFE.
Check out the entire Gen Why series and other videos on Facebook and the Bustle app across Apple TV, Roku, and Amazon Fire TV.