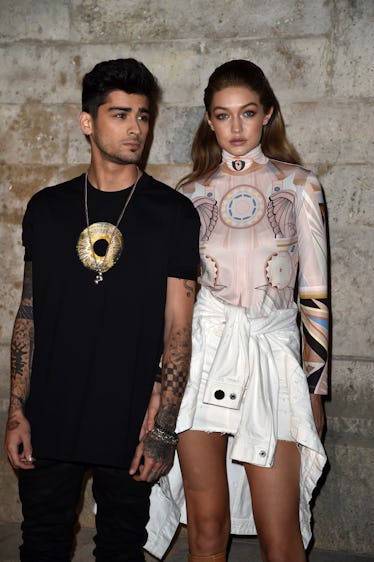 Fans Think Zayn Malik's Instagram Caption Is A Hint About His Breakup With Gigi Hadid
Pascal Le Segretain/Getty Images Entertainment/Getty Images
Maybe by now you've heard the rumor that Gigi Hadid and Zayn Malik broke up. If you haven't, I'm sorry to be the one to tell you. According to a report by The Sun, the famous young couple has officially called it quits after two years of dating. Malik is still active on social media and fans have a question: Is Zayn Malik's latest Instagram caption about Gigi Hadid? Like, probably. Elite Daily reached out to both Hadid's and Malik's teams for comment and confirmation of the report, but did not hear back by the time of publication. Neither party has confirmed or denied the news, either.
UPDATE: On Tuesday, March 13, Zayn Malik confirmed his breakup with Gigi Hadid in an emotional statement on Twitter. He wrote,
Gigi and I had an incredibly meaningful, loving and fun relationship and I have a huge amount of respect and adoration for Gigi as a woman and a friend. She has such an incredible soul. I'm grateful to all of our fans for respecting this difficult decision and our privacy at this time, we wish this news could have come from us first. We love you all. xZ
On the same day, Gigi Hadid shared the following statement:
Breakup statements often seem impersonal because there is really no way to put into words what two people experience together over a few years .. not only in the relationship, but in life in general. I'm forever grateful for the love, time, and life lessons that Z and I shared. I want nothing but the best for him and will continue to support him as a friend that I have immense respect and love for. As for the future, whatever's meant to be will always be. xG
EARLIER: While nothing is official, social media can always help uncover clues. For example, as of March 13, Malik no longer follows Hadid on Instagram. She does, however, still follow him. Shortly after The Sun's report hit the public, Malik posted a suspicious caption next to a selfie showing off a chest tattoo fans think is of Hadid's eyes. It definitely peaked fans' attention.
The Instagram caption in question is, "When Life throws you lemons , catch em so they don't hit you in the f*cking face."
IDK. SURE SOUNDS LIKE A BREAKUP POST TO ME. Take a look.
All of the pieces to a breakup post are clearly there.
For example, is he showing off his body, maybe in hopes to make someone feel jealous? I think so. Is his face moody and distant, like he's pretending he doesn't care? I think so. Is there a mysterious cryptic caption that could almost definitely relate to a breakup? I THINK SO. Is he showing off a tattoo of his ex-girlfriend's literal eyeballs? YES, I THINK SO.
Gee, Zayn. Seems like you might be going through something.
Only a few short months ago Hadid shared one of the loveliest birthday messages to Malik on her own Instagram. She posted a bunch of intimate photos and videos from their relationship with the message:
love this man more than I could ever put into words, & am inspired by his drive to be and do better everyday ✨ cheers to YOUR YEAR my @zayn - happiest happiest birthday & 25th year of life !! I'm proud to be by your side x
However, sources tell The Sun "work pressures" ultimately drew them apart. One insider said,
They are no longer a couple but they do remain close and are supportive of each other. The reality is that they've grown apart, having been together for a long time. They have crazy work schedules that would put pressure on any relationship.
Well, that sucks.
The insider added it was a mutual breakup, but I don't know if it makes me feel any better. The source claimed,
They both have respect for each other. It's a mutual decision, so no one has completely ruled out a reunion in the future, but for now that's not where their heads are at.
Ok, but have they considered how TOTALLY LOVELY they look standing side by side?
You can't just throw symmetry like that away, guys!
Obviously, fans are devastated.
While I can totally understand the demanding schedules of being a literal supermodel and pop star, Malik once told Billboard magazine he and Hadid had it under control. He said,
It's actually not that hard for us [to line up schedules]. It helps that she's really organized. Thank God! Because I'm really not, so she helps organize my schedule around seeing her ... She's in the studio quite a lot. She likes to cook for me and stuff — when I'm here late, she'll come down and bring me food. She's cool.
She's cool, Zayn? COOL???
Ugh. Maybe I should have seen this coming.
Check out the entire Gen Why series and other videos on Facebook and the Bustle app across Apple TV, Roku, and Amazon Fire TV.