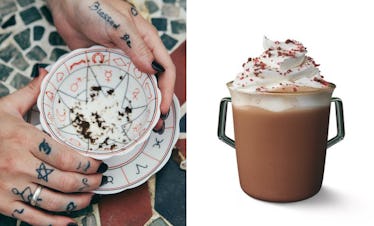 Starbucks Just Revealed Which Drink You Should Order For Your Zodiac Sign
I don't know about you, but I pay relatively close attention to my zodiac. It reassures me about daily life occurrences, provides pretty relevant dating advice, and most importantly, it helps me make certain (non-consequential) decisions. Speaking of which, I recently took a look at the 2019 Starbucks Zodiac drink recommendation wheel that was recently released on Starbucks' Instagram page, and even though it seriously makes me wish I were a Capricorn (because cold brew is #life), I will most definitely have to try my sign's drink.
Alright, I was born at the very end of June, which makes me a Cancer. So, according to the wheel, my go-to drink should be a Honey Citrus Mint Tea. And while I've never had this lovely-sounding beverage, it seems like now would be the time to try it. Starbucks describes the tea-based beverage as "when comfort is life," and honestly, that makes total sense. Cancer babes are known for having ~all the feels~, for being more hospitable than others, and for enjoying a night in every once in a while. So, a comforting drink definitely makes sense for a Cancer. Anyway, check out what your sign's drink is, below. You might end up discovering your new favorite sip.