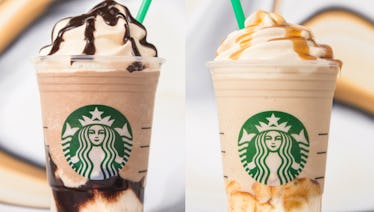 6 Starbucks Drinks That Would Taste Amazing With Cold Brew Whipped Cream On Top
Starbucks
I usually switch my regular morning hot coffee for something a little cooler when the weather warms up. Starbucks already has plenty of options when it comes to tasty cold sips, but the coffee chain has recently added even more variety to its menu when it comes to topping off your favorite beverage. Starbucks introduced a new cold brew coffee-flavored whipped cream, and you'll probably want to add it to every drink you order from now on. With the arrival of this new sweet topping, though, you might be wondering exactly what you can put Starbucks' Sweet Cold Brew Whipped Cream on.
This new, delicious topping from Starbucks is made with a "luscious infusion of cold brew coffee, dark caramel sauce, and white chocolate mocha sauce," according to Starbucks. So, you get the coffee flavor from the cold brew, and you get the sweetness you want from the whipped cream and chocolate sauces. Honestly, this sounds like it would taste delicious as a treat all on its own, but it also makes a great addition to many of the Starbucks drinks you already know and love (for the low, low price of 50 cents).
Just imagine your favorite Starbucks drink. Got it? Now imagine it with Sweet Cold Brew Whipped Cream on top. Do you want to run to the nearest Starbucks and try it for yourself now? Here are some suggestions to get your Cold Brew Whipped Cream obsession started.