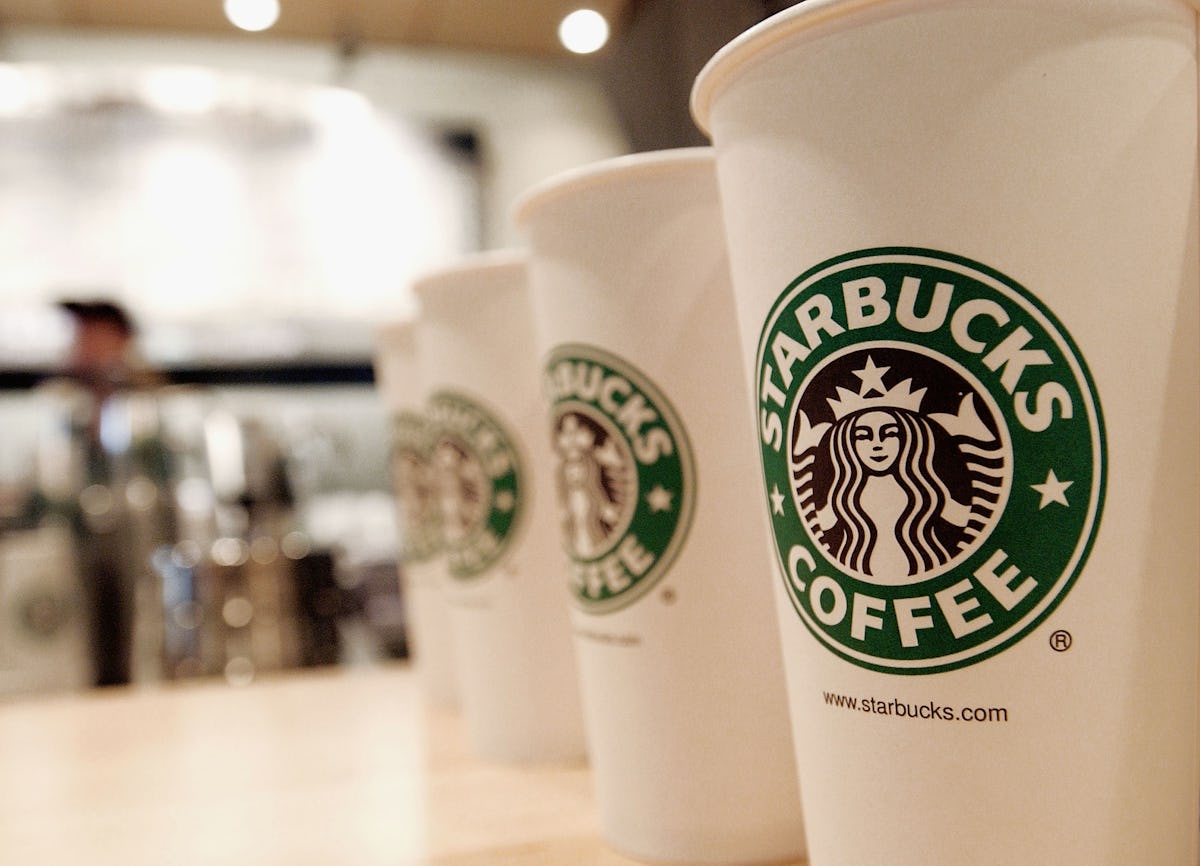 Starbucks' New Christmas Frappuccino Is Topped With A Tree & The Photos Are So Cute
Stephen Chernin/Getty Images News/Getty Images
Deck the halls with boughs of holly, and a monstrous Christmas-themed drink, to boot. Starting tomorrow, you can drive, walk, or run to your local Starbucks and ask for a Christmas Tree Frappuccino. The sugary monster is only available until Monday, Dec. 11, so if green tea, mocha, peppermint, freeze-dried fruit, and caramel are your thing — or if you're just, like, a crazy fan of Christmas — you better hurry. I mean, after all, these photos of the Christmas Tree Frappuccino show just how darn cute and festive it is.
The Christmas Tree is officially being released Thursday, Dec. 7 — though some Starbucks across the country have already started making them after news of them leaked. So prepare your stomachs. But unfortunately, you won't be able to zip down to your local Bux on Christmas morning to get a bunch of Christmas tree frapps, because they'll be gone by Monday, Dec. 11.
According to a press release, the Christmas tree drink is made with a peppermint mocha crème base and then "topped with a majestic Matcha whipped cream 'tree,' decorated with caramel drizzle garland, candied cranberry ornaments and finished with a strawberry tree topper." Wow. That's... a lot. (And, it should be noted, crème-based fraps don't have any caffeine.)
I am suspicious of how enjoyable a combination of peppermint, chocolate, green tea, caramel, candy, and freeze-dried strawberry will be.
I mean, green tea Kit-Kats? Yes. Peppermint and chocolate? Yes. Heck, Special K with Red Berries? Yaaaass. But it sounds like this combination could be a camel — a horse designed by a committee.
But, damn if it doesn't look totally cute. I mean, check it out. The matcha whipped cream actually looks like a Christmas tree.
The little ornaments! The garland! The oversized tree topper! And then, of course, the giant cup of cold chocolate cream drink underneath. It almost looks like soil.
While I myself am more of a white lights-and-silly-ornaments kind of Christmas tree decorator, the top half of this seasonal drink does give me jingle bell vibes.
I mean, just look how well it fits into this tableau. It says so much. A giant owl, perched high in a noble fir, watches the scene below: a monstrous beverage, brought to earth by Christmas elves, waiting for the happy people to discover it and enjoy.
Some people on Twitter are really excited to try it.
And, yeah, it really does look like a beast. I'd like to shake the hand of anyone who could finish the whole thing.
I mean...
This isn't the first time Starbucks has done a limited release of a drink that's as much about Instagram as drinkability.
There was the zombie frappuccino just before Halloween. With purple-pink whipped cream meant to be brains and a shock of caramel apple-flavored frappuccino, the drink was super photogenic. And obviously very spooky.
And, of course, we can't forget the OG: the unicorn frappuccino, a neon pink-and-blue concoction that could give a person sugar rush just by looking at it. The unicorn was a crème frapp with "sweet pink" powder, mango syrup, and sour blue drizzle, topped with whipped cream and more sour blue and sweet pink powder.
Basically, liquid Sour Patch Kids. And while a lot of people said the drink was "disgusting," people still went nuts, so they'll probably love Christmas Tree frapps as well. All of which means that you should probably get your butt down to a Bux.
And hey, this could also be Starbucks's way of trying to build some Christmas cred. After all, for years, it has been the focus of controversy over whether or not there's a war on Christmas, what with its yearly holiday cups. If so, I say job well done. I'm already feeling like my Mariah Carey Christmas album best.