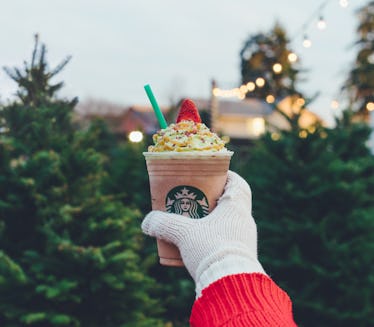 Starbucks Is Releasing A Christmas Tree Frappuccino & It'll Put You Into The Holiday Spirit
Starbucks
Starbucks is the gift that keeps on giving. The coffee company surprised its customers on Tuesday, Dec. 6 by announcing a brand new frappuccino inspired by the holidays, and I cannot wait to try it. That's right: Starbucks' Christmas Tree Frappuccino is comin' to town, and it's about to become your favorite chilled drink this holiday season. Before you run to your local Starbucks in search of the festive frappuccino, there's a few things you should know.
The Christmas Tree Frappuccino will only be available from Dec. 7 to Dec. 11 in participating Starbucks stores in the U.S. and Canada, so make sure you don't wait until Christmas morning to try it. I know, I know... it's a bummer this drink won't be around all winter long. Look on the bright side, though: You can treat yourself to one after you finish your holiday shopping, or enjoy it while you're decorating your Christmas tree. I mean, it is called the "Christmas Tree" Frappuccino, so you'd definitely be doing it justice by admiring your ornaments with one in your hand.
In fact, the frappuccino even resembles a Christmas tree, all thanks to its fitting green whipped cream and festive holiday toppings. Before we dive into what gives the drink its holiday look, take a peek at frappuccino below.
See what I mean? If I didn't know better, I'd mistake the Christmas Tree Frappuccino for an actual adorned Christmas tree any day.
To create the tree-like look on top of the frappuccino, Starbucks utilizes a few of their beloved ingredients. They use Matcha whipped cream to give the "tree" its color, while decorating it with caramel drizzle "garland" and candied cranberry "ornaments." To top the tree off, they use a strawberry slice (which is just as cute as a star would be).
Now that you know what makes the "Christmas tree" on top of the Christmas Tree Frappuccino, let's talk about what it actually tastes like. According to Starbucks, the beverage is made of a Peppermint Mocha Créme Frappuccino, which will surely put you in the mood for a candy cane or two. Between the peppermint taste and Christmas tree topping, this is the ultimate Christmas drink that'll definitely make you feel the holiday spirit.
If you miss out on trying a Christmas Tree Frappuccino between Dec. 7 and Dec. 11, have no fear: There are plenty of other holiday drinks on Starbucks' menu that'll make you feel just as Christmassy. You can indulge in the infamous Peppermint Mocha, or dive into a Gingerbread Latte. If you're an eggnog fan, you can sip on an Eggnog Latte — and if that's not your thing, you can celebrate the holidays with a Chestnut Praline Latte. At Starbucks, the holiday possibilities are endless.
However, I don't think any of those drinks look as festive at the Christmas Tree Frappuccino. I'm in awe.
Starbucks' Christmas Tree Latte comes after their release of Toffee Almondmilk Hot Chocolate, which is made with steamed Almondmilk, mocha sauce, and toffee nut syrup. If it's too cold outside to carry around a frappuccion (even with gloves on), this is your next best bet. Luckily, this drink joined the rest of Starbucks' hot chocolates on the year-round menu, which means you can enjoy it well after December and into the new year.
Again, if you wish to try Starbucks Christmas Tree Frappuccino, you must act fast. This holiday drink is only available from Dec. 7 to Dec. 11... so drink up and enjoy the season!
Check out the entire Gen Why series and other videos on Facebook and the Bustle app across Apple TV, Roku, and Amazon Fire TV.