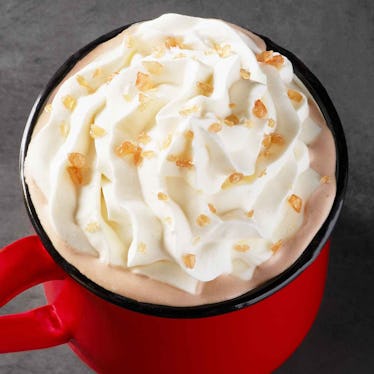 Starbucks' New Toffee Almondmilk Hot Chocolate Is Here To Make The Holidays Even Sweeter
One of the best parts about winter and fall is that it becomes socially acceptable to straight-up drink chocolate (aka hot chocolate). Maybe you have a favorite family recipe that you like to whip up with the first snowfall of the season, but if you want to let someone else do the work, you should check out the new twist that Starbucks is putting on this holiday classic. Starbucks' Toffee Almondmilk Hot Chocolate is here, and it might just become your new favorite seasonal sip.
Starbucks is likely already your first stop when it comes to holiday beverages, and it's always exciting when a new drink joins the seasonal lineup. What will you be getting when you order up a Toffee Almondmilk Hot Chocolate? The beverage starts with steamed Almondmilk, then mocha sauce and toffee nut syrup are added, and it is topped off with whipped cream and Caramel Brulée topping — sounds like the perfect way to warm up on a chilly day.
This new Toffee Almondmilk Hot Chocolate is also a great option if you're currently staying away from dairy — just be sure to "hold the whip" to make it completely dairy-free.
Starbucks is always a great choice when it comes to getting a holiday-inspired caffeine boost or sweet treat. Plus, it's a great on-the-go stop when you're heading to work or making your way back home from the ice skating rink.
Hot chocolate isn't new territory for Starbucks, though. The coffee chain has been serving up tasty variations on the chocolate classic for years. If Almondmilk isn't your thing, you can sip a Peppermint Hot Chocolate, Snickerdoodle Hot Chocolate, or Salted Caramel Hot Chocolate. If the flavors aren't enough to remind you of the holiday season (although Peppermint Hot Chocolate practically screams Christmas), then all you have to do is take a peek at the seasonal cup in which it's served.
This year's cup is all about inspiring customers to "Give Good" — which just so happens to be the message written on the red cup sleeve. The 2017 Starbucks holiday cup, however, is not the traditional red cup you'd expect. Instead, this year's cup is the first holiday color-in cup, and its design is anchored by a pair of hands holding red coffee cups (a nod to the past iconic Starbucks holiday cups).
The 2017 Starbucks holiday cup.
The tradition of Starbucks holiday cups began back in 1997, when the coffee company debuted a magenta cup adorned with swirled designs of holly leaves and coffee beans. The iconic red cup debuted in 1999, and that shade of red has been used in the cup design ever since then. Even though this year's cup allows for more creativity from the customer, the holiday spirit is still marked by red cups encased within the design.
20 years of Starbucks holiday cups (1997–2017) looks gorgeous.
While the nostalgia of the Starbucks holiday cup might be enough to get you in the spirit of the season, sometimes you need just a little more flavor in the form of seasonal bite. Lucky for you, Starbucks is stocked and ready in the sweet treat department as well. You can pair the new Toffee Almondmilk Hot Chocolate with their new Candy Cane Whoopie Pie, or you can go for the classic Cranberry Bliss Bar. If you like your dessert to be adorable and delicious, then a Snowman Cake Pop or Snowman Cookie will do the trick.
Whatever you need to get yourself into the holiday spirit, Starbucks is sure to have what you're looking for — call up your favorite coffee (or hot chocolate) buddy and reconnect over a holiday beverage this season.
Check out the entire Gen Why series and other videos on Facebook and the Bustle app across Apple TV, Roku, and Amazon Fire TV.