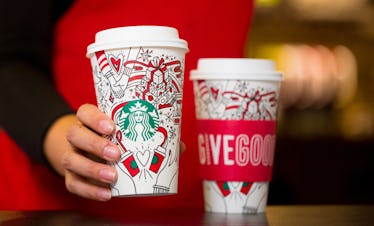 Starbucks' Holiday Cups Are Here & The Meaning Behind Them Will Fill You With Joy
Now that you've polished off the last of the candy corn, it's time to start thinking about the holidays. Hints of the festivities are beginning to make an appearance — decorations at stores, an influx of catalogs — so you know your favorite coffee company is about to get in on the action. People are beginning to question what Starbucks' holiday cups look like, but they don't have to wonder any longer.
On Nov. 1, Starbucks unveiled its new cups for the 2017 season, and they're guaranteed to fill you with the warm and fuzzies. Though people are accustomed to the iconic red cup, the coffee company decided to put a spin on its classic. This is the first time Starbucks has unveiled a color-in holiday cup for its customers, and there's definitely a special reason why it made this choice.
"This year's cup is intentionally designed to encourage our customers to add their own color and illustrations," Leanne Fremar, executive creative director for Starbucks, said in a statement. "We love the idea of everyone making this year's cup their own."
Though everyone is allowed to put their own spin on their cup, illustrator and cup designer Jordan Kay did have a plan in mind to unite customers — one that is guaranteed to put you in the holiday spirit.
"I liked the idea of hands as the centering point, a symbol of connection, love and giving joy, whether it's wrapping presents or decorating a tree, writing cards, or enjoying a mug of cocoa," Kay said in a statement.
Without further ado, here's a glimpse of the 2017 Starbucks holiday cup.
It's festive, adorable, and hard to resist.
Between such a special message and a celebratory look, there won't be any judgment if you make multiple trips to Starbucks each day. Chances are, we'll probably see you in line.
The good news is returning fan-favorite drinks are making their 2017 debut along with the holiday cups. Just in case you need to switch up your Pumpkin Spice Latte order and opt for a Christmas-like taste, the Chestnut Praline Latte, Caramel Brulée Latte, and Peppermint Mocha are here to satisfy. It sounds like it's an appropriate time to stroll around your favorite store (treat in hand, of course) and start admiring all of the festive décor that's made an appearance.
To top off your holiday order, those with warm beverages will receive a cup sleeve, which provides the most important message of all: give good.
"Giving good can be as small as someone opening the door for you, or recognizing the people that enrich your life – your child's teacher, a caregiver, a family friend," Fremar said in a statement. "The holidays are a time to celebrate all the good we give to each other and our community."
How sweet and meaningful are these?
In a world where things are getting more and more frightening by the day, it's nice to have a subtle tribute to what's really important in life: one another. Obviously, the cups go hand-in-hand with the holidays — they've made an annual appearance since 1997 — so if you want to make a statement this year, a Starbucks order is the way to do it.
Are you ready for a drink now? Again, no judgment if you opt for the PSL with one of these holiday cups (you have to have the best of both worlds). The holiday season can get hectic, so it's important to have a small reminder of what it's all about, and Starbucks is here to provide.
Check out the entire Gen Why series and other videos on Facebook and the Bustle app across Apple TV, Roku, and Amazon Fire TV.