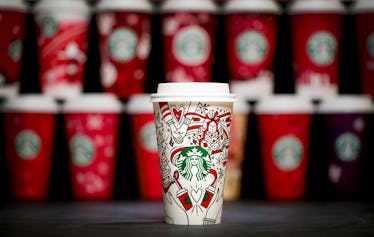 You'll Never Guess What Starbucks' First Holiday Cup Looked Like, & No, It Wasn't Red
The holiday season doesn't officially begin until Starbucks starts serving coffee in their infamous holiday cups. Whether they're red, green, white, or covered in Christmassy designs and snowflakes, the cups are loved by Starbucks customers everywhere throughout wintertime. Have you ever wondered — while sipping your Gingerbread Latte, of course — what the first Starbucks holiday cup looked like? If so, you're in luck, because the coffee chain just released photos of every holiday cup throughout the past 20 years. Believe it or not, the first cup wasn't even red.
Before I show you what the very first Starbucks holiday cup looked like, let's take a moment and talk about the history of their designs. According to the Starbucks Newsroom, the first holiday cup came to existence in 1997. However, #TBT wasn't a thing back then... so revisiting the design was a little difficult. Plus, Starbucks' reports that an earthquake in 2001 ruined the electronic design files for the cup and that few were even saved. Sad, I know.
Thankfully, an alumna from the Starbucks Creative Studio named Sandy Nelson kept a stash of the 1997 cups. In fact, she was the woman who designed them — and thanks to her, we can reminisce the first holiday Starbucks cup design ever. Shall we take a look?
The first Starbucks holiday cup was magenta, but also came in sapphire, emerald, and amethyst. It had swirled designs of holly leaves and coffee beans. TBH, it's adorable.
Yup. This cup from 1997 makes me proud to be a '90s baby, and definitely wouldn't mind sipping my Peppermint Mocha from it. Kudos to Nelson for creating such a masterpiece.
Apparently, Nelson remembers the day her holiday cup design was chosen clearly. According to Starbucks' Newsroom, she thought about the very moment and said,
It was August, and I had just started with the company. We were working on holiday creative for the season to come. We had what felt like a hundred cup designs pinned up on the wall. Then Howard [Schultz] came by, looked at all of them, and picked my design. I couldn't believe mine was chosen.
I think she deserves a round of a applause for this one.
Nelson even reminisced the moment she saw her cup designs in stores, and apparently, it was "thrilling." I bet she had no idea how huge Starbucks' holiday cups were about to get — but she certainly knows now.
Of course, I'm sure you're thinking, "Is magenta really a holiday color?" To answer your question, yes, it is. However, Starbucks decided two years later to experiment with a shade of red that was even more of an ode to the holidays.
Jon Cannell, manager Creative Design at Starbucks, talked about how they landed on the warm new shade. He stated, "I remember it all started when the creative director asked us, 'What is holiday red? Is it burgundy? Is it more of a ruby color.' We brought in all these holiday items in a range of reds, and we landed on a red that we all agreed on."
Alas, the first red Starbucks holiday cup was born in 1999.
If you aren't feeling all warm and fuzzy inside by taking a glance at this holiday favorite, then you must be the Grinch.
From that year forward, all Starbucks holiday cups used that shade of red in their designs. If you're curious (I know you are) you can take a look at each holiday cup from 1997 to 2017 below.
As you can see, this year's cup is in the upper left hand corner of the stack. It's white with hints or red and green, and allows customers to color in the design with shades of their choice. So, if you miss magenta (or sapphire, emerald, and amethyst), feel free to add those colors to your cups.
Happy holiday season, ya'll. I hope you think of Starbucks' past cups next time you grab your morning pick-me-up!
Check out the entire Gen Why series and other videos on Facebook and the Bustle app across Apple TV, Roku, and Amazon Fire TV.