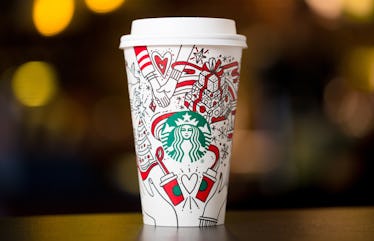 These Holiday Drinks Are Back At Starbucks For The Season & You Probably Already Love Them
You guys, I'm not quite sure how this happened, but it's officially November and time for seasonal sips. I know, I know, it seems like the Pumpkin Spice Latte only just arrived. The calendar has flipped, though, and before you know it, it'll be time for turkey and pie. Before you start prepping the stuffing, take a minute to enjoy the best part of the holiday season: Starbucks holiday drinks. That's right, Starbucks holiday drinks are back, and it's time to reacquaint yourself with your seasonal favorite.
According to a press release on the Starbucks website, you can once again get in the holiday mood with a festive sip in hand. The coffee chain released its classic seasonal favorites on Nov. 1 in U.S. and Canada Starbucks locations. If you need a little refresher on what Starbucks has to offer as the temperature drops and twinkling lights become the new normal, you've come to the right place.
You'll likely recognize the sips returning this month, and for good reason — they're classics. I honestly don't know if you can even say that you've truly celebrated the holiday season if you don't savor at least a couple Peppermint Mochas before the new year. If that minty pleasure is your holiday jam, then you're in luck, because you'll get to indulge in it once again this holiday season.
Let's review that and the other delicious offerings you can savor as you await the first snowfall.
Peppermint Mocha
The Peppermint Mocha is like the OG of holiday beverages. It makes sense, you're practically drinking a liquid candy cane mixed with chocolate and coffee (I wonder if they'll ever just change the name to "Perfection."), and it's "all topped off with whipped cream and chocolate curls." Rumor has it that you'll pick out the perfect tree if you complete the task with a Peppermint Mocha in-hand.
Chestnut Praline Latte
This coffee creation is like your favorite dessert from your work potluck buffet table all contained in one Starbucks holiday cup. You'll enjoy the "flavors of caramelized chestnuts and holiday spices," and as with every worthy beverage, it's finished off "with whipped cream and spiced praline crumbs." Sounds like the perfect post-sledding sip.
Caramel Brulée Latte
If you're a caramel macchiato loyalist, the you're going the love the holiday twist Starbucks puts on the caramel-coffee combination. The espresso meets with a "rich caramel brulée sauce," then that holiday touch is complete with a swirl of whipped cream and "shimmery caramel brulée topping." If drinks that shimmer don't scream "festive," then I'm not sure what does.
Gingerbread Latte
Think of this drink as a way to get all the delicious gingerbread flavor without having to go through the painstaking process of building a gingerbread house. I don't know about you, but I've never been great at successfully using frosting as cement. With the Gingerbread Latte, you'll get the flavor of "sweet and spicy gingerbread" in your morning pick-me-up, and you won't have to worry about turning four pieces of cookie into an above-ground gingerbread pool.
Eggnog Latte
If you regularly find refuge at family holiday gatherings by posting up next to the eggnog bowl, then this seasonal offering is for you. You can fulfill your eggnog craving and get your caffeine fix all in one when you sip on "espresso combined with rich steamed eggnog and milk." Heck, it might even fuel you up enough that you'll be ready to answer all of Aunty Betty's questions about why you're single and don't have a better job.
Holiday Spice Flat White
This is drink for you if you're just looking for that slight holiday twist on your regular drink order. You'll feel the cheer as you sip "Starbucks signature espresso infused with warm holiday spices."
So, now that you know all the ways you can sip your way to seasonal cheer, it's time to go try them out and see which one will be sticking by your side as you celebrate the holiday season. Oh, and it's totally OK if you decide that all of them make the cut.
Check out the entire Gen Why series and other videos on Facebook and the Bustle app across Apple TV, Roku, and Amazon Fire TV.