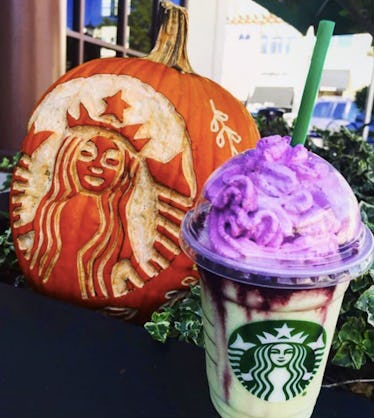 Starbucks' Zombie Frappuccino Is Creepy & Colorful, So Get Ready To See It On The 'Gram
Happy (almost) Halloween, everyone! Starbucks has blessed us with another frappuccino just in time for the spooky holiday, and it's just as colorful as it is creepy. Of course, I say that with love — because the drink is freakin' delicious. It's called the Zombie Frappuccino, and it's supposed to be creepy looking. Just take a small glance the pink whipped cream "brains" above the bloodshot-green frappuccino cream. It's perfect for anyone who loves anything sweet and spooky. But do you know what it's also perfect for? Social media. In fact, photos of Starbucks' Zombie Frappuccino prove it's completely Insta-worthy... so prepare yourselves for the internet invasion.
First, let's reminisce on the last major frappuccino internet invasion. You may remember the magical Unicorn Frappuccino from last spring... but if you don't, just do a quick search on Instagram and you'll definitely remember. The drink's pink and blue hue with fluffy whipped cream took the internet by storm, and it's Insta-worthiness is probably to blame. Well, it looks like the Unicorn Frappuccino rose from the dead and turned into a zombie, because now it's the Zombie Frappuccino's time to shine.
After one look at the new Zombie Frappuccino (which was released on Thursday, Oct. 26), you'll realize the drink is full of vibrant yet spooky colors fit for a Halloween post... or a Halloween party. In fact, according to Starbucks' press release, the new bev was inspired by a Halloween bash. Jennica Robinson of Starbucks' beverage development team commented on the new drink, and said,
When brainstorming a new Frappuccino flavor for this Halloween, we started by thinking about a Halloween party and monster mash. We had already invited Frankenstein and vampires to the party, so we came up with another monster that could join the bash.
That makes sense, right?
Now that you know what inspired the drink, let's get to the fun part: the photos!
This photo by @zombiefrappuccino is super eye-catching, and all the colors involved in the drink make it really 'grammable. Plus, the pumpkin adds a cute Halloween flare. I'm big fan.
Here's a photo by @abc_campus that really shows off the vibrant hues of green and pink in the drink. Bravo, I'm craving a sip.
Look how cute these Zombie Frappuccinos are sitting on top of a car! They look a little less creepy with blue skies behind them.
Check out that red mocha drizzle! It looks like Dracula just took a sip.
Now that you've seen some zombie beauty on Instagram, let's take a look at some of the pictures that have been shared on Twitter. Honestly, they're just as cool.
Look at these brains!
I love the colors in this one.
I'm getting major Unicorn Frappuccino vibes right now.
This one is accompanied by cute little autumn pumpkins.
Watch out, frappuccino! There's a zombie behind you!
That drizzle, though.
If these photos didn't persuade you to channel your inner zombie and stumble into your local Starbucks, then I don't know what will.
Oh, wait! Yes I do. Once I tell you about how it tastes, you'll definitely want to visit the 'Bucks for a taste of the undead.
According to Starbucks' News Room, the Zombie Frappuccino is infused with hints of tart and caramel apple for a person autumn flavor. The "brains" on top of the frappuccino is actually whipped cream (duh), and the "blood" inside the cup is a red mocha drizzle. So, imagine tart, caramel apples dipped in chocolate in liquid form. SO. GOOD.
If you want to try the new Halloween bev, you have until Oct. 31 or while supplies last.
Check out the entire Gen Why series and other videos on Facebook and the Bustle app across Apple TV, Roku, and Amazon Fire TV.