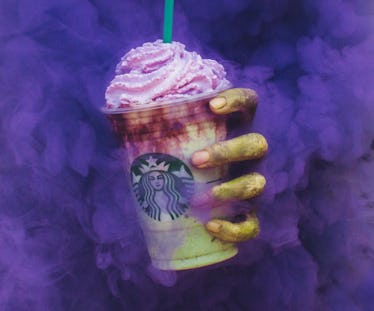 Starbucks' New Zombie Frappuccino Is Here & It'll Give You So Many Chills This Halloween
Oops, Starbucks did it again. They've released yet another beverage I'd like to spend all my money on. Rumors swirled in early October regarding a possible new Halloween-themed drink hitting the limited edition menu, and now, my friends, it's here! You read that correctly, Starbucks' Zombie Frappuccino is available as of Oct. 26, the coffee chain announced via press release.
The Zombie-inspired blended bev is a "ghastly" shade of green with a tart taste reminiscent of delicious caramel apples. It's then topped with pink whipped cream, resulting in a drink that looks like something straight out of The Walking Dead — a bloody brain! (Albeit a tasty one?)
Previous reports suggested Starbucks' Zombie Frappuccino was an ode to Frankenstein, which would have been fitting considering its eerie color combo. However, Starbucks says the frap is a tribute to a new kind of monster. "When brainstorming a new Frappuccino flavor for this Halloween, we started by thinking about a Halloween party and monster mash," Jennica Robinson of Starbucks' beverage development team said in a statement. "We had already invited Frankenstein and vampires to the party, so we came up with another monster that could join the bash."
As for the Zombie Frappuccino's fall flavor, Robinson said it's inspired by what you'd eat at a Halloween party. She said, "We settled on dipped caramel apples. It has a tart green apple favor balanced with a smooth, sweet caramel." The Halloween-ready drink will be available for a super limited time from Thursday, Oct. 26 to Tuesday, Oct. 31.
Prior to its Oct. 26 release, people were excited about the prospect of a scary-good new frappuccino to order at Starbucks since the chain hasn't debuted one since 2015's Frappula Frappuccino. But even Starbucks was being super secretive. It initially told Elite Daily,
Our Halloween plans are still under [mummy] wraps, but we look forward to sharing more details with the living soon.
As a living person, I was curious. And so was the rest of Twitter.
Some people were so excited.
While others wondered why the world needs another colorful frappuccino. (Answer: BECAUSE WE DO, OK?)
Baristas weren't too thrilled either.
While it might not be everyone's cup of tea (sorry, apple- and caramel-flavored zombie brains), Starbucks' Zombie Frappuccino is the kind of seasonal menu item I like to see — especially from a brand that has delivered on both the unicorn and mermaid trends.
Though Starbucks skipped whipping up something new for Halloween in 2016, its Frappula Frappuccino — a white chocolate mocha-flavored bev drizzled with strawberry purée — in 2015 and Franken Frappuccino in 2014 were spooky enough to carry the chain through to now, the Zombie Frappuccino's release date.
In addition to the limited edition frappuccino, there are a few more ways to celebrate Halloween at Starbucks thanks to the unofficial Starbucks Secret Menu website. There, you can find unique creations submitted by fans and baristas alike — such as the Wired Zombie, a tea-based drink made with matcha, lemonade, and one of Starbucks' tasty Refresher blends. Those itching with nostalgia can even pull up the original Franken Frappuccino recipe! The Frankenstein-inspired drink is made with a Green Tea Frappuccino base, peppermint syrup, white chocolate sauce, java chips, whipped cream, and mocha drizzle. Ah!
To recap: The Zombie Frappuccino is here til Tuesday, Oct. 31, but you can keep ordering the frightful secret menu items forever. With Halloween merely days away, let the Starbucks runs commence.
Check out the entire Gen Why series and other videos on Facebook and the Bustle app across Apple TV, Roku, and Amazon Fire TV.