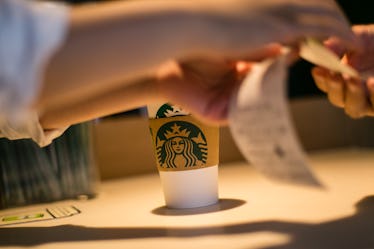 Starbucks Might Be Making A Zombie Frappuccino, & It Sounds To Die For
Christopher Jue/Getty Images News/Getty Images
It might be difficult to dethrone the beloved Pumpkin Spice Latte from first place, but there are plenty of options that are close contenders. Word on the street is that Starbucks might be making a Zombie Frappuccino with spooky and sweet flavors — the key word being "might." If there's one thing scarier than a horror movie, it's definitely living in suspense about a new Starbucks treat.
The Zombie Frapp is allegedly an ode to Frankenstein. According to alleged leaked info from baristas — as Cosmopolitan reports — the drink will feature a green hue and a caramel apple flavor, sport some tasty pink streaks (for the brains, of course), and offer a dollop of whipped cream for good measure. These alleged baristas are completely toying with our emotions. The agony — how are we supposed to go on?
If the reports are true, the kooky concoction will be available from from Oct. 26 to Halloween on Oct. 31. There are only a limited amount of days we can actually order one of these bad boys, so we're hoping that the coffee company decides to give us the goods ASAP. A Starbucks rep tells Elite Daily,
Our Halloween plans are still under [mummy] wraps, but we look forward to sharing more details with the living soon.
The living is dying to know more about this Zombie Frappucino.
As with any Starbucks release, people have started talking. The slight mention of a new menu item — if only for a limited time — is definitely enough to send coffee aficionados into a tailspin. Now that Halloween is scarily close, there's no time to fool around.
Some people are really into the idea of a Zombie Frapp.
Then there are those baristas and other Negative Nancys who are less than pleased with the drink (should it actually be on its way).
This isn't the first time Starbucks decided to make something special for Halloween (again, if the frappuccino is actually happening). Two years ago, the coffee company paid homage to Dracula with its vampire drinks called the Frappula Frappuccino. For those who are looking to recreate the magic, here's what it was included: a white mocha frapp, mocha sauce, whipped cream, and a drizzle of raspberry syrup. Want to sink your fangs into that? You can really drive baristas up a wall by trying to request this old flavor, should the ingredients be available at your neighborhood Starbucks store.
But let's focus on what is actually available.
For the customers who might've outdone themselves with morning PSL orders, try the new Horchata Almond Milk Frapp. With a blend of coffee, almond milk, caramel, and cinnamon dusting, this treat screams flannel shirts and beanies. As per usual, the frapp is cool and sweet and gives an alternative to typical favorites (yes, PSL, sometimes people need a brief pumpkin break).
We cannot forget about the Maple Pecan Latte either.
The MPL was on everyone's radar with its September 2017 release. The new drink is like a pancake breakfast in a cup, and if that doesn't get customers in the fall spirit, nothing will. Finish up your order with a dusting of the Autumn Sugar Topping to really get you in the mood to celebrate the season. So yes, believe it or not, the PSL isn't the only kind of coffee available in October.
It looks like we'll have to wait a few days to see if Starbucks is going to make our Halloweens extra boo-tiful this year by blessing us with the Zombie Frapp. Here's to hoping.
Check out the entire Gen Why series and other videos on Facebook and the Bustle app across Apple TV, Roku, and Amazon Fire TV.