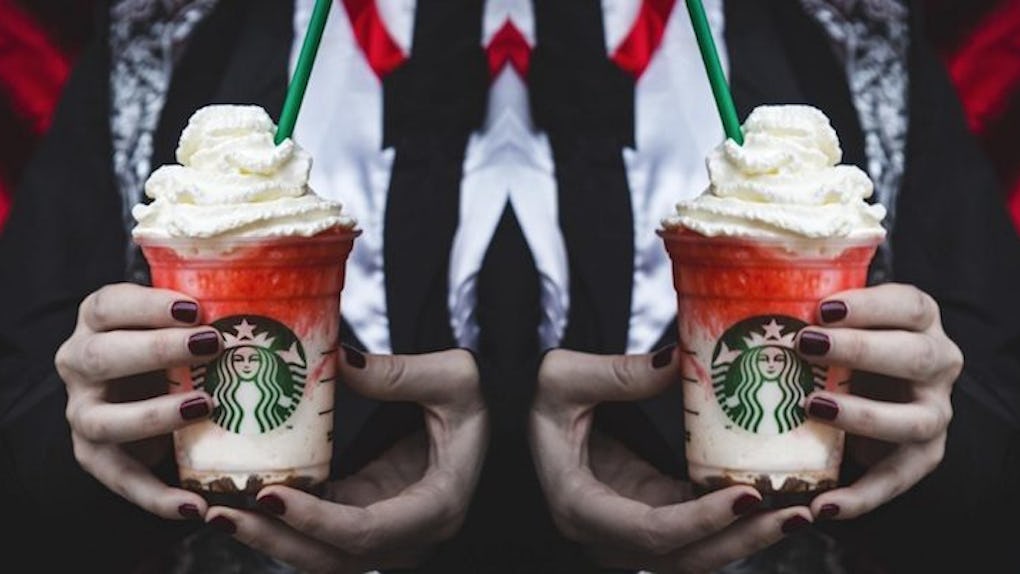 Instagram
Starbucks Has A Limited Edition Halloween Frapp And It Looks Incredible (Photos)
If you thought lattes dressed up in pumpkin spice were the best thing about fall, you clearly haven't seen the newest thing Starbucks has up its sleeve.
Starbucks is really getting into the Halloween spirit this year, and it turns out it's dressing its drinks up for the occasion.
That's right. Starbucks just created a new limited-edition Frappuccino flavor for Halloween called the Frappula Frappuccino.
As you maybe already guessed, the new drink is inspired by vampires, and this thing looks so good, you'll definitely want to sink your fangs into it.
But don't worry, Starbs isn't drizzling your favorite frosty drink in blood or anything.
The Frappula Frappuccino will only be available for a little while, so you better throw on a garlic necklace and run over to Starbucks before these spooky sips are gone.
Take a look at the pictures below to see the new Halloween Frapp.
Move over, PSL.
There's a new treat taking over Starbucks this Halloween.
Feast your eyes on the Frappula Frappuccino.
This spine-chilling drink is inspired by vampires...
And features mocha sauce and whipped cream at the bottom of the cup...
Followed by some delicious White Chocolate Mocha Frapp...
...and then some raspberry syrup on top to give it that blood-sucking vampire appearance.
Starbucks will only have the Frappula Frappuccino until November 1. So if you want to sink your fangs into one of these blood-curdling beverages, you better act fast.
Citations: Starbucks Just Released a Limited-Edition Halloween Frappuccino (Cosmopolitan)