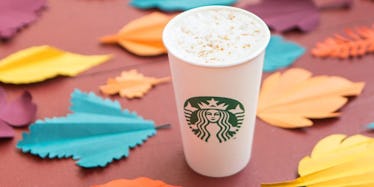 Starbucks' Maple Pecan Latte Is Coming And It's Just As Delicious As The PSL
Starbucks
Perhaps you thought Starbucks was ending its fall drink lineup with the re-release of its coveted Pumpkin Spice Latte. Not a bad assumption, as the PSL is a huge money-maker for the coffee chain. However, this season they're introducing a new autumnal favorite, and you're going to want to taste it as soon as possible. Drum roll, please: Meet Starbucks' Maple Pecan Latte.
Starbucks' Maple Pecan Latte will be available beginning Friday, Sept. 22.
Your local baristas will begin taking Maple Pecan Latte orders on Sept. 22. Dunkin' Donuts introduced a similar flavor in August, so I'm interested to see how the two compare. Both can be ordered hot or iced, but Starbucks' hot version comes topped with pretty orange sugar crystals called the "Autumn Sugar Topping."
According to an email from a Starbucks spokesperson, the company's take on the Maple Pecan Latte is inspired by fall's changing leaves and features hints of maple syrup, pecan, and brown butter for a full-on fall flavor (in addition to espresso and steamed milk, the classic components of a latte).
"It's literally like pancakes in a cup."
My editor here at Elite Daily, Amanda Fama, got to taste the seasonal latte ahead of its release, and she loved it. "It's so hard to explain," she told me when I asked her to describe it for this story (and, you know, general knowledge because I'm itching to try it, too). "It's sweet, but not too sweet. And not too 'maple' either. It's literally like pancakes in a cup." She sold me when she mentioned that it tastes like a drinkable version of one of my go-to breakfasts.
Starbucks has served up maple flavor before, though.
All new drink excitement aside, Starbucks reminded me in their email that this isn't actually the first time they've experimented with maple on their U.S. menu. Back in 2014, the brand tested a Golden Maple Latte at its Cleveland and Orlando locations. However, the last maple beverage available at all U.S. locations was the Maple Macchiato circa 2007.
You've might've also seen a maple bakery item pop up here and there over the years like the (sadly discontinued) Maple Oat Pecan Scone. Described as "a buttery oat scone filled with sweet praline pecans, topped with maple flavored icing and decorative white icing" on the Starbucks website, it sounded like it was made for dipping into the Maple Pecan Latte, TBH.
In a blurb labeled "Did You Know" beneath the no-longer-available treat's ingredients, Starbucks notes an interesting fact about maple production in North America. It reads,
Native Americans living in the northeastern part of North America were the first people known to have produced maple syrup and maple sugar.
Although today maple syrup is mostly hailed as Canadian favorite, that snippet of history makes it easy to see why Starbucks continues to serve up maple-flavored products to its North American customers.
That's not all!
Beyond the syrupy new latte you can expect to order on Friday, Sept. 22, you can also expect your hot coffee to come in a festive new cup. That's right, after the success of its colorful spring cups, Starbucks is rolling out their jewel-toned fall counterparts.
Like the spring ones, they have a blank white circle in the middle, which is ready for any and all autumnal doodles you might have up your sleeve. A leaf? A pumpkin? A broomstick to honor your witchy soul? The choice is yours, but I bet you'll leave your local 'Bucks feeling extra ready for cooler weather... and maybe pancakes.
Some of these cups even come with pre-drawn doodles including an awl, a pie, and a pumpkin -- so get excited.
Check out the entire Gen Why series and other videos on Facebook and the Bustle app across Apple TV, Roku, and Amazon Fire TV.