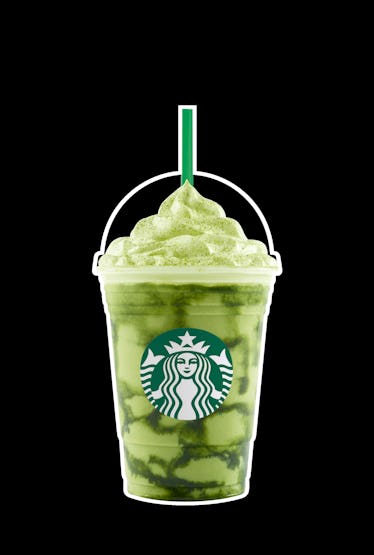 Here's How To Order A Wired Zombie Off Starbucks' Secret Menu For A Boost On Halloween
In case you missed it, Starbucks is reportedly releasing a new, Halloween-themed blended beverage soon called the Zombie Frappuccino. But the maybe-new drink isn't the only way to celebrate Oct. 31 with the coffee chain. Starbucks' Secret Menu is host to plenty more spooky options you can order if you don't hate being that person listing (seemingly random) ingredients for your barista to expertly combine. Among them? The Wired Zombie, an oldie but a goodie. Unlike many of Starbucks' recent releases, this tea-based bev is not a frappuccino. Without further ado, here's how to order a Wired Zombie... if you dare.
A quick note: Per the Starbucks Secret Menu website, the Wired Zombie was originally created with the company's Valencia Orange Refresher, which is sadly no longer available (RIP). In its place, the people behind what's arguably the best unofficial menu out there suggest supplementing the Valencia Orange Refresher with a different one (e.g. the Strawberry Açai Refresher or the Cool Lime Refresher) depending on your preference.
With your refresher choice in mind, it's time to get this recipe ordered. Though your barista might not know what a Wired Zombie is (after all, it isn't an official menu item), all you have to do is tell them you want the following in the cup size of your choice:
Ingredients
Refresher (Strawberry Açai or Cool Lime)
Light lemonade without water
Matcha green tea powder (1 scoop for a tall, 2 scoops for a grande and venti, and 3 scoops for a trenta)
Classic syrup (1/2 pump for a tall, 1 pump for a grande, 1 1/2 pump for a venti, and 2 pumps for a trenta)
Once you've listed the four key ingredients, request that your barista top the whole drink off with some raspberry syrup (half a pump for a tall, 1 pump for a grande, one and a half pumps for a venti, and 2 pumps for a trenta). The end result is what Starbucks' Secret Menu dubs "an awesome mix of red and zombie green colors, it's a feast for your taste buds and your eyes."
Though you might compare an actual wired zombie to a gory scene straight out of The Walking Dead, the Wired Zombie at Starbucks won't make you cringe. Quite the contrary. It's a fruit-forward and colorful drink with a drool-worthy description on the Starbucks Secret Menu website that highlights its "great energy boost from the green tea matcha and green coffee extract in the refresher." Translation: It's way less likely to give you the uncomfortable jitters associated with too much caffeine.
Like most of the recipes featured on Starbucks' Secret Menu, the Wired Zombie was shared by an experimental barista named Tara Bates (@mamaspaz87), who submitted the recipe via Instagram.
Forgetting about the Secret Menu for a second, I genuinely do hope that Starbucks brings out a Halloween-themed frappuccino. How great would it be to order a freaky-sounding drink without having to pull up the recipe on your phone, potentially embarrassing TF out of yourself in the process?
Should a 5-ingredient order be too complicated for your liking, you could always opt for a classic Red Eye, which is a more commonly ordered menu item and sort of sounds scary when you think about red eyes and Pennywise from It. Eek!
To order a Red Eye, simply ask for a regular coffee (hot or iced) with a shot of espresso overtop. That's it. You'll sound like a coffee connoisseur and feel energized for an evening of trick-or-treating and or Halloween partying!
Stay spooky, Starbucks lovers.
Check out the entire Gen Why series and other videos on Facebook and the Bustle app across Apple TV, Roku, and Amazon Fire TV.