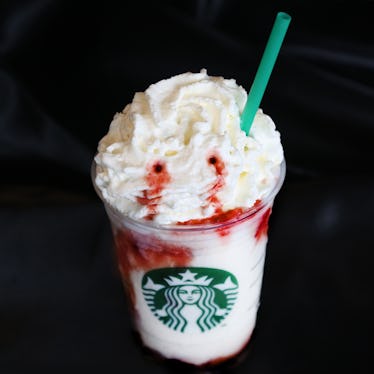 This Spooky Starbucks Frappuccino Inspired By Frankenstein Will Give You All The Chills
Halloween is right around the corner, and that means it's time for everything in your life to get a little bit spookier. Hocus Pocus needs to be booted up, candy corn must be bought in bulk, and your regular ol' coffee run should probably get a frighteningly tasty twist. There's a few Halloween-inspired drinks on Starbucks' secret menu and they look like all kinds of delicious. Before we get into them, let's talk about how to order the "Franken Frappuccino" from Starbucks' Secret Menu.
In case this whole "Starbucks Secret Menu" thing is totally unbeknownst to you — here's the run down.
There's actually a whole slew of drinks you can order from your barista that aren't on the menu. Among them: Candy Cane Frappuccino, Butterbeer Frappuccino, Raspberry Cheesecake Mocha Frappuccino, Chocolate Pumpkin Latte, and so many others. I bet the usual black coffee, no milk, no sugar, is seeimg pretty boring right now.
Now, if you have a hankering for something a little more dangerous and Halloween-y, the Franken Frappuccino is definitely the way to go. Order it by asking for a Green Tea Frappuccino with peppermint syrup, white chocolate sauce, java chips, whipped cream, and mocha drizzle.
Just look at the results. So green, so tasty looking, so perfect for accompanying that 1,000th viewing of Hocus Pocus.
If green drinks aren't exactly your thing, there's plenty of other Halloween drinks on the secret menu.
According to Bustle, there's also the Dirty Werewolf, which is an amped up coffee drink packed with plenty of energy. Ask your barista for a Chai Frappuccino with two shots of espresso, one pump of cinnamon dulce syrup, whipped cream, and cinnamon.
Prepare to feel extra bouncy after that one.
If you're looking for something a little less coffee, and a little more fruity, go with the Wired Zombie. Order either the Strawberry Acai or Cool Lime refresher, and ask to add in light lemonade. Then, add one dollop of matcha powder, classic syrup, and raspberry syrup.
It'll look something like this:
You'll feel something like this:
While we're on the topic of the undead, there's also a drink called a Zombie Frappuccino that'll soon be up for grabs. Apparently, this one will be available at Starbucks from Thursday, Oct. 26 to Tuesday, Oct. 31. It's rumored to be a cream-based drink with green caramel apple powder and pink powder. The order will be topped off with pink whipped cream and pink mocha drizzle, to represent brains (natch).
As intriguing as that all sounds, Starbucks baristas are already dreading the whole thing.
The drink is kind of reminiscent of the Unicorn Frappuccino, which caused a whole lot of heartache and irritation among Starbucks employees.
In a since-deleted viral video rant, Starbucks barista Braden Burson railed against the colorful drink, saying how difficult it is to make. He explained,
Today, it came out, and I have to tell you, PLEASE DON'T GET IT. I have never made so many Frappuccinos in my entire life... My hands are completely sticky. I have unicorn crap all in my hair and on my nose. I have never been so stressed out in my entire life. If you love us, as baristas, DON'T ORDER IT!
Employees also took to Reedit to gripe about the insanely complicated drink.
One wrote,
We're almost out of the blue mucus. Our cold bar counter is bright purple. One of our blenders shattered while making a unicorn with extra unicorn sh*t.
Edit 5:30 pm: Out of blue unicorn mucus. Putting in extra blue unicorn dandruff instead. As one customer said, "as long as it looks the same!
Another added,
It was AWFUL. We just didn't have the labor to handle the people and how f*cking long and involved the drink is.
Let that serve as a PSA for all of your Halloween drink-ordering needs. No matter how cool the drink sounds, try to order the least complicated concotion. Oh, and also never, ever say the words "Unicorn Frappuccino" to your barista.