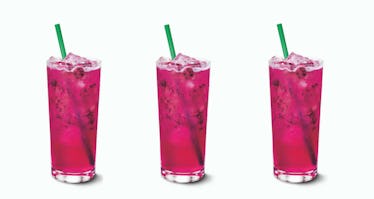 Starbucks' New Tropical-Tasting Refresher Will Last Longer Than The Summer
Starbucks
In case you haven't heard the good news, Starbucks is rolling out a brand spankin' new drink to take on the summer heat. The Mango Dragonfruit Refresher is the answer to all your warm weather problems, and it is available at stores across the United States and Canada starting Tuesday, June 19. The Seattle-based coffee company is notorious for bringing new drinks to the menu for just a limited time, so how long is Starbucks' Mango Dragonfruit Refresher available? It'll last a while.
There's no denying just how stunningly gorgeous and vibrant Starbucks' Mango Dragonfruit Refresher is. The deep magenta color has me totally mesmerized. I could stare at it all day long, but will I really get to do that for as long as I want? It sure does seem that way. The picture perfect addition to the Starbucks menu is sticking around longer than you might think. In fact, Starbucks is making the pink-colored libation a permanent fixture on store menus throughout the United States and Canada as of Tuesday, June 19. I'm going to recommend you get to sippin' while it's still hot out there (I see you, summer), but you've technically got an endless amount of time to enjoy this tropical drink. The sooner the better, though, because this beverage is best enjoyed under the warm summer sun.
Starbucks Refreshers are almost always handcrafted with fresh fruit by your barista, and the Mango Dragonfruit Refresher does not disappoint. The sweet drink is made with chunks of red-ripe dragon fruit and deliciously juicy mango, according to Starbucks. Seriously, this refreshing drink is almost too good to be true. There are no artificial sweeteners or colors added to the drink, either. This way you can feel good about your afternoon pick-me-up all year long. Thanks, Starbucks.
If you plan to slurp down as many Mango Dragonfruit Refreshers as I do, I'm going to let you in on a drink hack. Ask your barista to swap out water for coconutmilk in your Mango Dragonfruit Refresher. This modification is known as the Dragon Drink. I have not tried it yet, but I am quite certain it will totally revamp the tropical treat into a creamy and cool delight for your taste buds (and mine). Go on and savor the flavor, why don't you.
Whichever version of the Mango Dragonfruit Refresher you order, be sure to take a picture of the new menu item. I know this beautiful beverage is here for the long haul, but honestly, I'll never tire of seeing its gorgeous pink and purple hue appear in my social media feeds. While you are busy staging the perfect picture for the Mango Dragonfruit Refresher, share your snap using the hashtag #AfternoonMade for a chance to be featured on Starbucks' Instagram Story. You never know, your shot of the dragon fruit drink could go big time.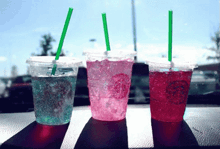 So, even when the temps drop below freezing and you're staring at that pile of dirty snow at the end of the sidewalk during your daily commute, take heart in the fact that you can step inside any Starbucks and order up a Mango Dragonfruit Refresher. Doing so will surely take you back to warmer times. I am getting a bit ahead of myself, though, because the Mango Dragonfruit Refresher was only released two days before the official start of summer on Thursday, June 21. I don't know about you, but I don't want to think about the snow quite yet. Now that summer is upon us, I am going to celebrate the sunshine with a delicious Mango Dragonfruit Refresher. Cheers!