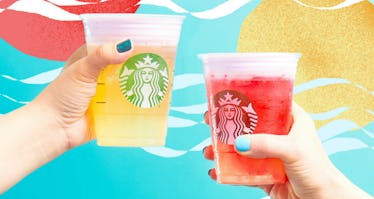 Starbucks Released New Cold Foam Drinks For Summer & They Sound Amazing
Starbucks
Summer is finally here, and it's just in time for Starbucks to roll out two new drinks help you cool down when the temps begin to rise. The coffee chain announced that two similar varieties of Cold Foam Tea Lemonades will grace the menu, but only for a limited time this summer. There is no denying that lemonade is one of the most refreshing drinks to sip on in the hot summer sun, which means that you are going to want to try these two new drinks. So, what are Starbucks Cold Foam Tea Lemonades? Here's what to know before you place your order.
Starting on Friday, June 22, Starbucks lovers throughout the United States and Canada will be able to sip on the sweet tastes of summer thanks to the creation of two new brews. Starbucks' Cold Foam Tea Lemonades come in two tasty combinations. First, there is the Summer Sunrise. This one is like a tropical explosion in your mouth. It combines bright and cheery pineapple flavors, which are infused into the classic taste of lemonade that you know and love from your childhood days. That's not all this drink has to offer. It is also sweetened with Starbucks' classic syrup, and then topped with a frothy Teavana Passion Tango herbal tea cold foam, according to Starbucks. Phew. Deep breath. Did you get all of that? It is a seriously delicious combo of summer's biggest flavors, all mixed into a clear cup for you to enjoy.
Next up is the Summer Sunset. This is the second version of the cold foam tea lemonade. The Summer Sunset blends together the exotic flavors of paradise including pineapple and lemonade. This one is also topped with a velvety smooth Passion Tango herbal tea cold foam for a sweet surprise, according to Starbucks. Like its name, this lemonade libation looks just like the sun melting into the earth as the moon begins to rise. So dramatic, right? Don't let the drama keep you away, though, because these deep pink hues just have to be Instagrammed.
Just head's up for all of you non-dairy drinkers: The Summer Sunrise and the Summer Sunset both contain milk. Cold foam is absolutely delicious, BTW. What is cold foam, exactly? Cold foam is made the same way as the hot foam on a cappuccino, but it is frothed cold and placed on top of your favorite chilled drink. You can add cold foam to any drink for a $0.50 upcharge, but it is included on the Summer Sunrise and the Summer Sunset.
These warm weather drinks won't be on the menu for long, so if you plan to indulge, you better order up soon. Since Starbucks is offering the Summer Sunrise and Summer Sunset, you might as well give both a try. Grab the Summer Sunrise on your way to work in the morning, and then stop by Starbucks on your way home to spoil your taste buds once more with a Summer Sunset.
Starbucks' Teavana Shaken Iced Passion Tango Tea Lemonade is one of my favorite iced beverages the coffee chain offers, so I know I'll be putting these new similarly flavored cold foam tea lemonades into heavy rotation for the next couple of months. Basically, the Summer Sunrise and Summer Sunset are going to be the next best thing since sliced bread. If only they could stick around a little longer.
Starbucks is on a roll this summer, adding a bevy of vibrant and splashy drinks to its menu. The magenta-colored Mango Dragonfruit Refresher was released on Tuesday, June 19, and it is a the perfect mixture of fruity and sweet to keep you sweat-free all day long. You can also swap out the water in the Mango Dragonfruit Refresher for coconutmilk. This creates a creamy new pink beverage called the Dragon Drink. Unlike the two new cold foam tea lattes, these beverages are here to stay. Make sure to get the Summer Sunrise and Summer Sunset while you still can.