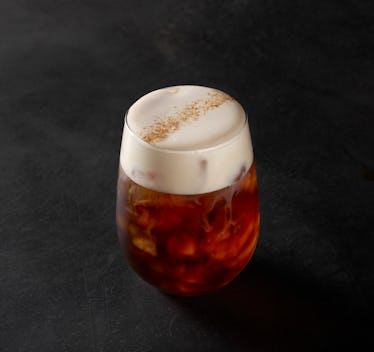 Starbucks' Cold Foam Is Here & It'll Make Your Drinks So Much Smoother
If you've popped into your local Starbucks recently, chances are you've seen signs for their latest line of cold coffee drinks. With temperatures rising and summer just around the corner, I'm here to tell you that Starbucks' cold foam is the perfect addition to satisfy your hot-weather coffee cravings (maybe you just didn't know it yet). There's just something about the way the smooth and creamy froth effortlessly hits my mouth with each sip. I'll tell you what: The coffee giant has really brewed up something good here. Whether you've sampled the milky aerated topping or not, you're probably curious to know what Starbucks' cold foam is.
It is a true art, in my humble opinion. Cold foam a classic twist on steamed foam — a technique that's been at the heart of the Seattle-based coffee chain for almost four decades — so it comes as no surprise that it's as good as it looks. Cold foam is made in a similar fashion to the tried-and-true steamed foam, except it's frothed cold instead of hot. The satisfying smoothness is created by blending together nonfat milk — not cream —until it takes on that fine, silky finish my tastebuds know and love. When you've had nearly 40 years to perfect the craft of creating the light frothy deliciousness, you know it's got to be a real delicacy in the coffee world.
Once it's whipped up to perfection, the chilled fluff is placed atop three new coffee beverages from Starbucks, which include the Cold Foam Cascara Cold Brew, the Cold Foam Cascara Nitro Cold Brew, and the Cold Foam Starbucks Blonde Iced Cappuccino. The new brews, which first became available on Tuesday, April 17, are available at participating locations nationwide — but that's not the first introduction devout Starbucks fans have had to the creamy topping. A bit of quick history for you: Cold foam was first introduced to the public in December 2014 at the Reserve Roastery in Seattle, and later at Starbucks Reserve coffee bars.
Back to the important stuff: The cold foam drinks.
First up on the menu is the Cold Foam Cascara Cold Brew. This cup o' caffeine is sweetened ever-so-slightly with vanilla syrup and finished off with cascara cold foam. Then, the barista adds a splash of cascara topping to round out the faint taste of brown sugar and maple. You bet your bottom dollar this one is as good as it sounds.
Next up is the Cold Foam Cascara Nitro Cold Brew. If you've ever had a nitro pour of anything, you know it has a velvety texture (and this brew is no different). This luscious drink is topped with the lightly-sweetened cascara cold foam followed by a hit or two of cascara topping. (In case you are wondering, cascara is the sweet outer layer of a cherry, so it's got a bit of a fruit flavor without being too overpowering, according to Starbucks' flagship store.)
Finally, my personal favorite: the Cold Foam Starbucks Blonde Iced Cappuccino. Cold foam is the perfect compliment to this espresso-based drink, which is poured over ice and hit with a splash of nonfat milk. I live in warm weather climate, so it's not often that I get to enjoy one of my favorite caffeinated beverages topped with a little something extra. This drink draws inspiration from the Cappuccino Freddo, the national beverage of Greece, according to Starbucks.
If you haven't stopped by your local Starbucks to try one of these craft cold foam brews, do yourself a favorite and pay your favorite barista a visit. Make it sooner rather than later, because cold foam is about to seriously up your iced coffee game.