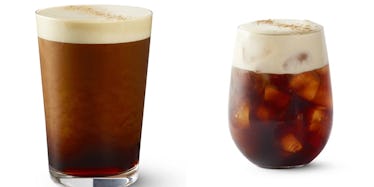 Starbucks' New Cold Foam Cascara Drinks Will Be Your Favorite Brews This Summer
Even though I have way too many go-to Starbucks orders, I'm always down for any hot drink with a little bit of foam on top. Hot-foam drinks are literally the key to my heart for any cold morning or rough day at work. They're smooth and super creamy — but this April, foamy drinks will no longer have to be seasonal, because Starbucks is offering the summertime gift of cold foam drinks. If you're looking to cool off this summer with a new beverage, Starbucks' cold foam drinks are where the party's at.
Starbies was already so cool, but the coffee giant is getting ice cold this summer. As of Tuesday, April 17, participating Starbucks locations throughout the United States and Canada are selling a bunch of new cold foam drinks including the Cold Foam Cascara Cold Brew, the Cold Foam Cascara Nitro Cold Brew (as long as Nitro is available at said location), and the Cold Foam Starbucks Blonde Iced Cappuccino. I am so ready for each and every one of them.
The base of the Cold Foam Cascara Cold Brew, per the release, consists of signature Starbucks Cold Brew. It's lightly sweetened with vanilla syrup, and topped off with cascara cold foam. It's also sprinkled with a bit of cascara topping, which adds hints of brown sugar and maple. This compliments that smooth cold brew flavor without completely drowning it out.
The Cold Foam Cascara Nitro Cold Brew is very similar to the Cold Foam Cascara Cold Brew. The base includes smooth Nitro Cold Brew, minus the ice. Sweet cascara cold foam and cascara are sprinkled on top. Sweet dreams are made of these.
Finally, the Cold Foam Starbucks Blonde Iced Cappuccino is a new twist on an old Greek favorite called the Cappuccino Freddo, which is solely sold in European Starbucks locations. It's made up of Starbucks Blonde Espresso shots, a bit of nonfat milk, and of course, that good old cold foam.
In addition to their specialty cold foam drinks, customers will also be able to add cold foam to any iced beverage of their choice (so say hello to my new hangover cure: cold foam iced coffee). All cold foam drinks are served with strawless lids which allows for customers to better savor the cold foam. Starbucks clearly has fans' backs this summer, and I am so here for it. I feel #blessed.
According to the press release, cold foam is exactly like Starbucks' signature hot steamed foam, which they introduced way back in the '80s. To make the cold foam, nonfat milk is frothed cold instead of hot. It's blended until it gets smooth, which creates layers of creaminess and rich flavoring without the cream. The cold foam can then be added to any and every cold beverage, and it's definitely about to cure all of my (and hopefully Lana Del Rey's) summertime sadness.
Shockingly, this isn't the first time that Starbucks has come out with cold foam. According to the release, they introduced cold foam with the Americano Con Crema, back when they opened the Reserve Roastery in Seattle in December 2014. The Americano Con Crema is simply topped with a coffee-spiced cold foam (which sounds like a dream come true). According to the press release, cold foam has also made appearances in other specialty beverages like the Nitro Cascara Cloud, which is only available in some Starbucks Reserve coffee bars.
Summer is just around the corner, but I didn't have too much planned (until now). Cold foam is seriously about to transform all of my warm weather coffee drinking, and you better believe I'll be chugging it all summer long.