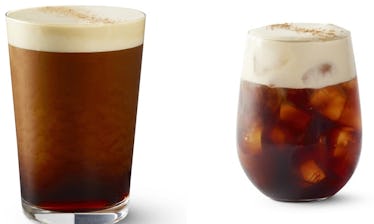 Starbucks' Cold Foam Drink Flavors Sound Delicious & I Want To Try Them All
As the highly anticipated summer weather rolls in, there's nothing better than an ice cold drink — and Starbucks' latest creation has coffee lovers totally covered this season. The coffee giant just created cold foam, which is about to top all of my iced-drink orders this season. Cold foam is being used on a new selection of beverages at Starbucks, and the new flavors sound delicious. If you're wondering what Starbucks' cold foam drink flavors are, I have you covered. Say hello to my new obsessions.
With hot summer temperatures just around the corner, cooling off will be mandatory. Luckily, Starbucks is coming in clutch this season with its latest and greatest menu items: cold foam drinks. They officially hit menus on Tuesday, April 17, at all participating Starbucks locations in the United States and Canada. In case you were wondering, each one of them truly caters to my endlessly icy soul. Among the cold foam specialty drinks are the Cold Foam Cascara Cold Brew, the Cold Foam Cascara Nitro Cold Brew (as long as Nitro is available at your local Starbucks), and the Cold Foam Starbucks Blonde Iced Cappuccino. All three of them sound absolutely amazing, and if I'm being completely honest, my wallet is in major trouble RN.