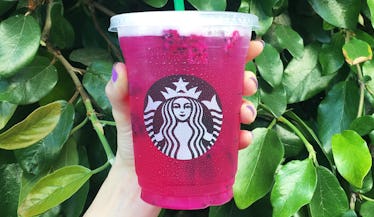 Starbucks' New Mango Dragonfruit Refresher Is The Tropical Drink You'll Crave
Starbucks
Just days before the official start of summer, Starbucks is expanding their drink menu to include a brew that will keep you cool during the warm weather days. The colorful Mango Dragonfruit Refresher is available starting Tuesday, June 19, so hurry up and get to Starbucks. (Trust me, you will want to try this one ASAP.) Delight your taste buds with delicious sips of sweet mango and tropical dragon fruit flavors to kick off summertime. There is not a more perfect drink to kick off the season. That's right: Starbucks' Mango Dragonfruit Refresher is here, so order now to stay cool in the hot summer sun.
Available at stores throughout the United States and Canada, the Mango Dragonfruit Refresher made its debut at just the right time. With temperatures rising across much of the country, it feels as if summer is already upon us, even if the summer solstice isn't officially until Thursday, June 21. Starbucks' newest drink is bursting with sweet tropical and exotic flavors that are sure to transport you to your own beach oasis, even if it is just momentarily. The hand-shaken summertime libation is made with bits of real red-fleshed dragon fruit, also known as pitaya, and is combined with the sweet and juicy flavors of mango, according to Starbucks. Yes, please. It's like having your own little cup of paradise to drink from.
The vibrant summer beverage isn't going anywhere, either. The Mango Dragonfruit Refresher, which is made without artificial colors and sweeteners, is taking up permanent residence on the Starbucks menu. I'm pretty happy about that. I live in Florida where it is basically scorching hot all year long, so there' no doubt you will find me sipping this colorful creation at all times.
Not to mention, the Mango Dragonfruit Refresher was made for Instagram. Just look at it. There are many Insta-worth Starbucks drinks to choose from, but the Mango Dragonfruit Refresher might take the cake as the prettiest one yet. Its rich magenta hue is going to look so great in your newsfeed, so get to snapping after you order. Pictures or it didn't happen.
"Even the name dragon fruit sounds magical," Alicia Binion from Starbucks research and development, who created the new beverage, said in a press release. "It's one of those up-and-coming flavors. The red-fleshed fruit is less common and helps make this drink so fun and unique."
If you want to mix it up a bit, ask the barista to add coconut milk instead of water to the dragon fruit-flavored beverage. It is sure to be that extra bit of creamy deliciousness you need to wake up your tastebuds and get you through your workday slump.
Starbucks is keeping busy this year by adding new drinks to their menu left and right — and I'm not mad about it. The Mango Dragonfruit Refresher is the latest in a lineup of tasty new drinks from Starbucks this year. In June, Starbucks debuted the Serious Strawberry Frappuccino that's a blended mixture of ice, milk, and a swirl of strawberry fruit puree. Strawberries and summer go together like peanut butter and jelly, so Starbucks is definitely staying on trend with its refreshing fruity drinks to keep you cool during the dog days of summer. That's why the Mango Dragonfruit Refresher is the perfect product to enjoy when the sun is high above in the afternoon or on your way home as the sun starts to set.
The Mango Dragonfruit Refresher is the only drink you need to cool off, take it easy, and unwind in the heat this summer. So kick back, relax, and enjoy your very own slice of island paradise.