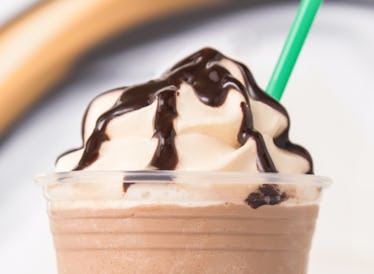 Here's How Much It'll Cost To Get Coffee-Flavored Whipped Cream At Starbucks
Starbucks
Starbucks lovers, rejoice: The coffee chain announced the launch of three new menu items on May 1, and they include new Sweet Cold Brew Whipped Cream. I mean, how delicious does that sound? Pretty dang good, I'll tell you what. Before you order up the newest tasty topping, you probably want to know how much Starbucks' Sweet Cold Brew Whipped Cream costs. Luckily, it's not that much.
Sweet Cold Brew Whipped Cream is available at Starbucks stores nationwide and in Canada starting Tuesday, May 1. Now, Starbucks fanatics can indulge in a new whipped garnish atop their favorite coffee beverages for just 50 cents extra.
The deliciously sweet topping is a mixture of Starbucks' cold brew coffee, dark caramel sauce, and white chocolate mocha sauce — and it's here to stay indefinitely. Starbucks is known for its custom blend Nariño 70 Cold Brew, which is slowly steeped in cool water for 20 hours. It really is all about the art of the craft. Mix that with the sweet and toasty dark caramel sauce, fudge-flavored white chocolate mocha, and freshly whipped cream, and I'd say you've got yourself one of the tastiest aerated toppings you can imagine. Suffice to say it is a true explosion of flavors — and I mean that in the most delicious way possible.
In addition to the announcement of Sweet Cold Brew Whipped Cream comes two revamped Frappuccino flavors: the Ultra Caramel Frappuccino and the Triple Mocha Frappuccino. The Ultra Caramel Frappuccino — a blend of buttery caramel sauce, caramel coffee frappuccino, and cold brew-flavored whipped cream — will transport your taste buds to the next level. The Triple Mocha Frappuccino is no exception here either. The roasted coffee frozen delight is blended with dark mocha sauce, Sweet Cold Brew Whipped Cream, dark mocha frappuccino, and ice for a cup of something truly extra special and sweet. Like the Sweet Cold Brew Whipped Cream, these two blended beverages are taking up permanent residence on the Starbucks menu.
It seems that the Sweet Cold Brew Whipped Cream can be added to any drink of your choice for 50 cents. If you are feeling like moving around from your regular order, mix and match the recently-announced menu items. Luckily, the Ultra Caramel Frappuccino and Triple Mocha Frappuccino will already come with a pillowy pile of Sweet Cold Brew Whipped Cream for the ultimate afternoon delight. It sounds like it is going to be the perfect addition to just about any drink your heart desires.
Starbucks is all about the toppings on their caffeinated beverages as of late. Their collection of cold foam concoctions greets your lips with a smooth and refreshing milky finish atop these three new drinks: Cold Foam Cascara Cold Brew, Cold Foam Cascara Nitro Cold Brew, and Cold Foam Starbucks Blonde Iced Cappuccino. It's highly probable that you've ordered a foam-topped drink or two before, but I promise it is nothing quite like this. The fact that the foam is chilled really kicks it up a notch. The cold foam is still made in mostly the same manner as regular hot foam, but it blends nonfat milk — not cream — to create a velvety topping.
All in all, the luscious pile of sweetened fluff is worth the extra 50 cents if you're ordering it on a Starbucks drink (aside from the two new frappuccinos that already come with it). I am not saying you have to ask for Sweet Cold Brew Whipped Cream on everything you order from Starbucks, but it is good to switch it up every once in a while and try something new. Variety is the spice of life, don't cha' know? Load up your Starbucks account and go get some.