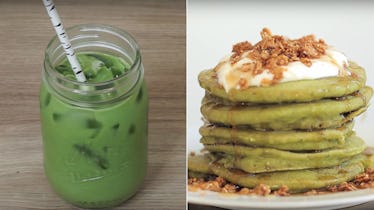 Your St. Pat's Party Needs These Matcha Recipes, Because All Green Everything
St. Patrick's Day is right around the corner and you may be feeling excited and lucky for that green holiday. Before you can get your best green outfit and St. Patrick's Day makeup on, you are definitely going to want to chow down on all of the green food you can manage. Almost anything you can think of can be turned into a festive treat, but traditionally with food coloring. While this really isn't bad for you, a better way to achieve this effect is to look up matcha recipes for St. Patrick's Day. It'll give your food that green hue while also being pretty dang healthy.
Matcha is green tea powder and has everyone super hype about it. If you're a tea drinker, this is certainly right up your alley, but if you're a little apprehensive, don't worry! It will be a perfect edible substitute to food coloring that'll make all of your treats green to celebrate St. Patrick's Day. Of course, it'll change the flavor a little bit, but it's not bad at all. Any of these recipes can easily be made for vegans or the lactose intolerant by swapping in friendly ingredients, because we deserve green happiness in food form, too.