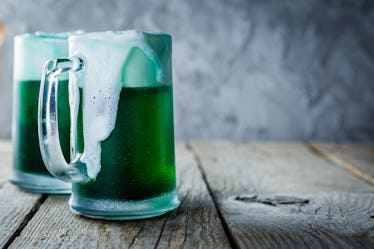 Where To Get Green Beer On St. Patrick's Day For The Most Colorful Celebration
As you check your closet to make sure you have something green to wear on March 17 (you don't want to get pinched!), you're probably also beginning to think about your St. Patrick's Day plans. The holiday happens to fall on a Saturday this year, so you're likely looking at a day filled with all kinds of festive fun. If you're of drinking age, you can check out where to get green beer on St. Patrick's Day, so you can imbibe in style.
Drinking green beer might not seem like the most traditional way to celebrate the Irish holiday, but it will at least make for a fun photo op with your besties. You can swap out at least one of your traditional Guinness stouts for a brightly colored brew and, as they say, "Do it for the 'gram!" The good news is that if you're in search of an emerald-hued beer, it shouldn't be too difficult to find on St. Patrick's Day.
Not to be all "captain obvious" here, but hitting up a bar is your best bet for finding green beer to celebrate St. Patrick's Day. From the looks of it, pretty much any bar will be able to turn your golden beer into the festive green beer of your St. Patrick's Day dreams. To ensure success, though, I'd focus your sights on more casual spots like sports bars or traditionally Irish bars, rather than a niche bar that specializes in fancy AF drinks.
Another good way to spot a bar serving up green brews is to check if they have St. Patrick's Day specials. Many bars capitalize on St. Patrick's Day parades in certain cities and offer a breakfast and drink special for a set cost. Even if you don't partake in a morning of kegs and eggs, bars offering up these kinds of specials will likely have some food coloring on hand to "magically" turn your beer the same color as a four-leaf clover.
It turns out, it's pretty simple to add a festive flare to your St. Paddy's day drinks. According to Food & Wine, green beer is made with blue food coloring. Apparently, blue food coloring works best because light beers naturally have an already yellowish hue. And if you tap into your elementary school knowledge of colors, you'll recall that the combination of yellow and blue creates the color green. I knew paying attention in first grade would pay off big time when it came to creating novelty drinks later in life.
Now, what are you supposed to do if hitting the bars isn't your scene? Thankfully, you're not totally out of luck. Thanks to the little tidbit about blue food coloring, you can make your very own green beer in the comfort of your home.
All you'll need is some light beer and blue or green food coloring, according to SheKnows. The light beer works best because it has a paler color as compared to heavier varieties (like an India Pale Ale [IPA] or a stout) that are usually darker in their appearance. And when it comes to the food coloring, you can take the advice of Food & Wine and stick with blue, but green should also do the trick if that's all that you have on hand. The most important step to remember is that you add in the food coloring to a glass before you pour the beer. Once you drop in the color, pour in the brew and enjoy your delicious and festive homemade green beer.
Whether you're sipping a colorful brew out at the bar or at home, you can imbibe knowing that you're actually partaking in a longstanding tradition of drinking green beer on St. Patrick's Day. A coroner's physician and eye surgeon from the Bronx, Dr. Thomas Curtain, first introduced green beer for a St. Patrick's Day Party in 1914. Although his exact recipe is still unknown, the tradition carries on more than 100 years later. So, take a page out of the history books and raise a glass of green beer to celebrate St. Patrick's Day. Cheers!