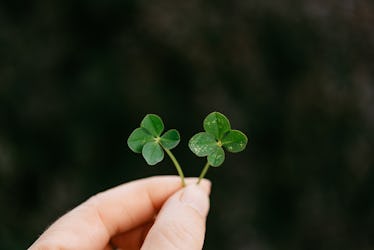 How To Have A Blast This St. Patrick's Day, Even If You're Not Really Into Drinking
The single best or worst holiday of the year is coming up, depending on how Irish you are, and/or how much you love or hate beer. St. Patrick's Day comes around every year on March 17, and it's often characterized by general mayhem, excessive consumption of watery beer, and a whole lot of green. But if you're not much of a drinker, don't stress. There are plenty of things to do on St. Patrick's Day without drinking — well, OK, you can't always avoid being around the drinking, but you can definitely find fun things to do while you're sober on this traditionally non-sober holiday.
Although people tend to focus more on dressing up like leprechauns, and not so much on the actual origins of the holiday, St. Patrick's Day is traditionally known as "Feast Day," according to TIME, and the holiday is intended to honor the patron saint of Ireland. But, as you know, the essential parts of the holiday have since morphed into these modern-day traditions: drinking and wearing green.
If you're looking to stay dry this year, there are a few ways you can get through the day safe, sober, and content with the knowledge that you'll be free of a hangover in 12 hours. Here are six sober ways to celebrate St. Patrick's Day.