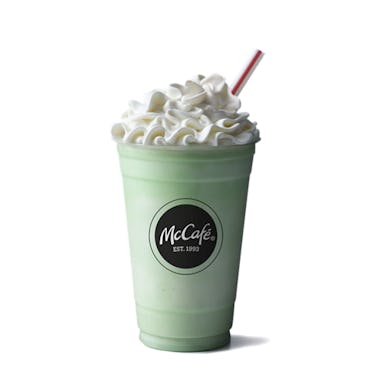 McDonald's Shamrock Shakes Won't Be Around That Long, So Get Yours Now
While there are many ways to celebrate St. Patrick's Day, one of the most delicious ones (in my opinion) is drinking a Shamrock Shake from McDonald's. It may not be the most traditional St. Patrick's Day offering, but the fast food chain's festive shake is a sweet and minty celebration of the Irish holiday. As you know, this tasty sip is a limited-time treat, and that probably has you wondering how much time you have to get your hands on one. So, how long are McDonald's Shamrock Shakes available?
I know, I know, when a menu item is as crave-worthy as McDonald's McCafé Shamrock Shake, you don't want to think about it ever going away. The good news is that you don't have to worry about the green-hued shake leaving the McCafé menu for at least a few weeks. In an email from McDonald's to Elite Daily, a McDonald's spokesperson tells Elite Daily that the Shamrock Shake is available at McDonald's restaurants through St. Patrick's Day, which is Saturday, March 17.
Seeing as though the calendar hasn't even flipped to March yet, you still have plenty of opportunities to treat yourself to a Shamrock Shake. If you're not familiar with the shake, it combines minty Shamrock Shake syrup with McDonald's vanilla soft serve, and it's finished off with whipped topping.
Although I'm no taste-testing expert, I annually partake in a St. Paddy's Day Shamrock Shake, and I have yet to be disappointed with one. Honestly, I find it difficult to convince myself that I really celebrated St. Patrick's Day if March 17 passes and I didn't once treat myself to a Shamrock Shake.
McDonald's announced the return of the Shamrock Shake in a press release this month, and it was music to shake-lovers' ears everywhere. Of course, it wasn't really a surprising announcement since McDonald's regularly brings the Shamrock Shake back to its menu every March ever since the chain first introduced the Shamrock Shake in 1970.
Today, you can find the Shamrock Shake right there on the McCafé menu in McDonald's restaurants. Since the Shamrock Shake has quite the following, McDonald's is making it even easier for customers in search of a sweet celebration of St. Patrick's Day. They introduced the "Shamrock Shake Finder app" for both iOS and Android phones to make satisfying your Shamrock Shake cravings so simple.
In the app, you can find the nearest McDonald's locations serving the Shamrock Shake, and you can even send Shamrock Shake-themed stickers to your friends. One of the stickers featured in the iOS app includes "cheers-ing" animated Shamrock Shakes, so you can easily call for a bestie Shamrock Shake date.
Remember to head to McDonald's before March 17 to snag your own Shamrock Shake. Seriously, you do not want to miss out on this limited-time St. Patrick's Day celebration in milkshake form. If your calendar is looking a little too packed to leave time for you to get yourself to a McDonald's restaurant, you're not totally out of luck. Thanks to the invention of delivery and Uber Eats, you can have your Shamrock Shake delivered right to your door with McDelivery (which is available on Uber Eats). McDonald's is really making sure that you don't miss out on the Shamrock Shake this year.
Whether you're a festive shake newbie or you regularly toast St. Paddy's Day with a Shamrock Shake, you have up until St. Patrick's Day to get your hands on this sweet sip. So, make a note of March 17 in your calendar, because not even the luck of the Irish will help you if you miss out on the limited-time Shamrock Shake.