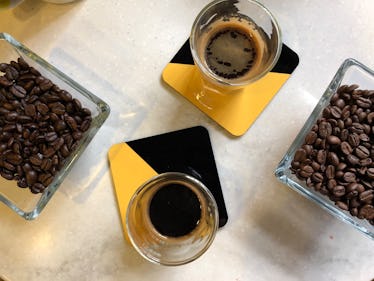 Here's How To Tell The Difference Between Starbucks' Espresso Flavors
Amanda Fama
If you're already struggling to get through this week (happy Tuesday), you're probably in need of a pick-me-up. But instead of going for your usual coffee order, Starbucks has added a new item to their permanent coffee menu that'll get you excited to power through the next few days — and maybe even the weekend. Blonde Espresso, released on Jan. 9, is the coffee chain's first new espresso in over 40 years... and it's kind of a big deal. So, what's the difference between Starbucks' Blonde Espresso and Starbucks' Signature Espresso?
According to Starbucks, the new menu item is "a lighter roast that doesn't compromise on taste or caffeine." Contrary to popular belief, blonde roasts don't have any less caffeine in them than dark roasts. In other words, blonde roasts have just as much fun as dark roasts! See what I did there?
The primary difference between the two roasts is, unsurprisingly, the taste. Starbucks' Signature Espresso offers a bold, rich flavor "with a little bite." The OG espresso flavor is perfect for anyone who isn't just drinking coffee for the extra energy, but who really loves the taste of coffee. Plenty of people don't even drink coffee for the energy, but literally just because they enjoy the taste, and Signature Espresso is their go-to. But let's face it: There are two types of coffee drinkers out there, and not everyone loves the full espresso flavor. If you need a heavy dose of cream and sugar in your coffee, Blonde Espresso just might be the new roast for you.
According to Starbucks, their Blonde Espresso offers a "smoother coffee flavor," and doesn't need as much cream and sugar (thanks to the sweeter taste). So if you're just getting into coffee (or choking it down for the sake of a caffeine boost), it might be worth giving Blonde Espresso a shot. One of Elite Daily's editors described it as "smooth, light, and citrusy," so definitely consider trying it out if you're over the usual espresso taste (or if you were never into it to begin with). I'm personally not a huge coffee drinker, but this new flavor definitely has me intrigued.
So, how did Starbucks create this delicious new flavor? The coffee masters started with Latin American and East African coffee beans, and lightly roasted them to bring out the bright notes and smooth, yet citrusy flavor. Those who venture to try the new flavor will experience tastes of orange and lemon (coffee is a fruit, after all), as well as some warm, caramel-y goodness. I don't know about you, but I could definitely use some warmth and some citrus in the middle of this cold air and snow, so sign me up!
As you may have guessed, Blonde Espresso works better in certain drinks, and vice versa. For example, if you're a fan of the Signature Espresso, you probably go for something like the Caffe Mocha, which can handle the bittersweet flavor of the original beans. Likewise, if you want the full Blonde Espresso experience, there are a few drinks in particular that will really help you embrace the taste.
The brightness of the Blonde Espresso makes it perfect for any iced espresso drink, particularly an Iced Americano. As for all of you iced coffee lovers out there who haven't been stopped by the below-freezing temps, this one's for you. For a hot option, there's the Blonde Vanilla Latte, a light beverage that's great for anyone just beginning their coffee journey. If you don't have time to mess around with sugar and cream and just want straight-up espresso, order a Blonde Flat White or a Blonde Espresso Macchiato. Whatever your coffee preference is, Blonde Espresso just works.
Check out the entire Gen Why series and other videos on Facebook and the Bustle app across Apple TV, Roku, and Amazon Fire TV.