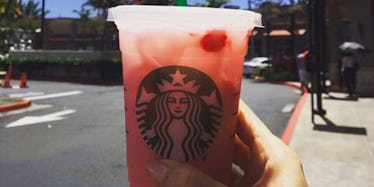 Starbucks' Gorgeous Summer 'Pink Drink' Is Here To Dominate Your Instagram Feed
Instagram
Starbucks has always been really good about listening to its customers.
The company knows exactly what we want, and it knows when we want it.
The coffee chain heard us loud and clear last summer when we all went absolutely nuts over the Pink Drink.
The Pink Drink originally debuted as an option on Starbucks' infamous Secret Menu.
But now, the coffee empire announced the drink has officially landed a spot on the year-round menu.
It is basically a twist on the Strawberry Acai Refresher, but it's mixed with coconut milk instead of water, and it's topped with tasty chunks of strawberries.
It's as beautiful as it is delicious.
You no longer need to worry about sounding extra AF when you ask for coconut milk instead of water...
...because the Pink Drink is its own glorious concoction of creamy, pink sweetness, and it's available year-round.
Your Insta feed is going to look so gorgeous this summer.
*so much pink*
No need to be embarrassed, Brian. The Pink Drink is for EVERYONE.
There may not be any caffeine in it, but there's definitely enough sugar in there for a solid 2 pm pick-me-up.
Oh, and imagine how delicious those strawberries taste when you're done with the drink.
YUM.
Why isn't this me right now?
But please: Keep it away from your very expensive laptop. Y'all are wild.
If being basic is bad, then I never want to be good.
I just want this to be the color palette of my whole life.
The Pink Drink is obviously tasty enough to enjoy on its own, but imagine sipping one of those bad boys while also having an equally scrumptious meal from Starbucks' new "Mercato Menu."
You're practically going to be bowing down to the baristas for blessing you with so much deliciousness at once (as if we don't already worship them).
Keep killin' the game, Starbucks. We'll always love you.
Citations: The Most Instagrammable Drink At Starbucks Is Now Officially Part Of Its Menu (Delish)