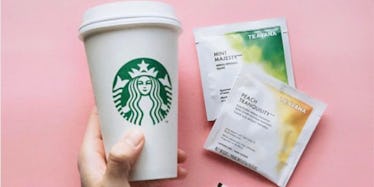 Starbucks Makes Secret Menu Drink Official After People Discover Health Benefit
Instagram
There's a new drink on the menu at Starbucks, and if social media is to be believed, it's a miracle worker.
Called the Medicine Ball or Cold Buster, the secret tea became so popular with customers that the coffee chain fast-tracked it onto the official menu.
This process normally takes weeks or months, but demand for the Medicine Ball was so high, Starbucks added it in just one day.
Posts about the drink have surfaced on Instagram and Twitter in recent months, with many fans claiming it is the perfect cure if you're struggling with a heavy cold.
It's a barista's nightmare, though, as the recipe is pretty damn complicated.
It's made in a Venti cup filled with half hot water and half steamed lemonade, with one bag of Teavana Jade Citrus tea, one bag of Teavana Peach Tranquility tea, one packet of honey and some optional peppermint.
But it's worth the trouble, with one Instagram user writing,
I've had a crazy fever for a couple of days with migraines, body aches, a runny nose and was hella congested but this really cleared up my sinuses and made me feel a lot better.
Fortune reported the process started when a Starbucks manager said his team was making 20 Medicine Balls every day.
Company President and COO Kevin Johnson said 40 other managers responded to the claim, explaining they were selling up to 50 each day.
It marks the end of an incredible rise for the drink, seeing as the first orders came in less than six months ago, in October 2016, The Today Show reported.
Now that it's official, the drink has a standard recipe card and ring code at Starbucks.
The price range for a tall cup is $2.65 to $2.95.
Forget midday naps and your grandma's ancient recipe — grab a Medicine Ball if you really want to kick your cold.
Citations: How Your Instagram Posts Created a New Starbucks Drink (Fortune), This 'secret' Starbucks drink became so popular that it's now on the menu (Today Show)