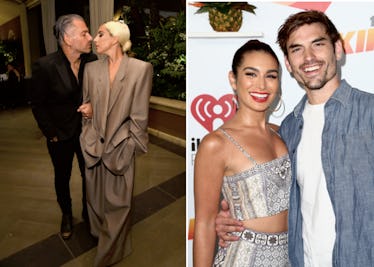 The 14 Best Proposals Of 2018 Will Make You "Aww" Out Loud
Michael Kovac/Tommaso Boddi/Getty Images Entertainment/Getty Images
If you're as obsessed with celebrity relationships as I am, is there anything more exciting than the news of your favorite two stars deciding to spend their lives together? I'm talking about celebrity proposals, of course, and this year's best proposals of 2018 did not disappoint.
Even though I had to say "thank u, next" to one of my favorite engaged couples of the year, Ariana Grande and Pete Davidson, sorting through the best celeb proposals of the year makes me feel a little bit better. This year, pop culture power couples were devoting to life partnership left and right, and it was really nice to see, TBH. From surprise engagements and overdue announcements to so extra proposals and jaw-dropping giant rings, 2018 brought us all kinds of celebrity commitments.
Pop stars like Lady Gaga and Ed Sheeran are now officially locked down, Gwyneth Paltrow and Robin Thicke are ready to give marriage another try, and it looks like a couple of Bachelor Nation duos might actually make it. Yeah, the roller coaster ride of celebrity romances can be a little depressing at times, but these proposals show us that the real deal is still alive and well.
Check out the 14 best celebrity proposals of 2018, and get ready to go, "Awwww!"