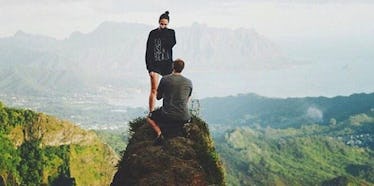 20 Amazing Guys Who Took Their Marriage Proposals To The Next Level
The only thing more exciting than your actual wedding day is the moment the love of your life drops down on one knee and asks for your hand in marriage.
Like most ladies, you've probably dreamed about this since your childhood days of acting out picture-perfect proposal scenes via Barbie and Ken.
If there's one person who knows a thing or two about a seriously impressive proposal, it's Stacy Tasman.
After seeing her friend get engaged, this hopeless romantic set out to find some of the most epic marriage proposals on the face of the Earth and compiled them all onto one incredible Instagram account called How He Asked.
Now would probably be a good time to grab a couple of tissues because these proposal pictures are so heart-melting they'll make you cry harder than the first time you watched "The Notebook."
According to Tasman,
I started HowHeAsked.com after I was part of a friend's proposal a few years back. 'How he asked' was so unique and special that I began to think how beautiful all these stories could be. Because of that, I started the website and the Instagram, and have seen over 3,000 proposals since – including my own proposal, which happened four months ago in two feet of snow.
Seriously, all of these dudes deserve an A-plus for their proposals.
Stacy Tasman is no stranger to awesome proposals.
Hey girl, wanna get married after we figure out how to get down from this cliff?
Rocking the boat with a 2-carat ring.
You just won... a brand new husband!
He's ready to take the plunge.
Popping the question with an "Up"-themed proposal? Yes, please.
This might be the luckiest woman alive.
The hipster proposal at its finest.
He's not afraid to fight for her love.
Give me a Y! Give me an E! Give me an S! What does that spell? YES! YES! YES!
He found his one and only fish in the sea.
Now that you've survived jumping out of a plane, will you marry me?
Now this is a seriously impressive place to pop the question.
Nothing can put out the burning love these two have for each other.
His heart was racing when he finally asked the question.
Talk about hitting a hole-in-one.
There's about to be some Navy nuptials in the near future.
It's a good thing she agreed to stay for the "Phantom of the Opera" after show.
This gal has her man trained just as well as the dog.
And they lived happily ever after.