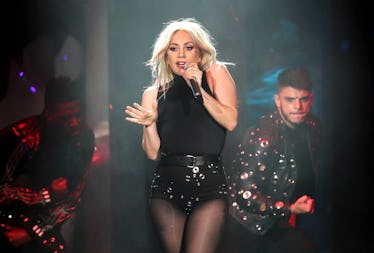 Lady Gaga & Christian Carino's Relationship Is Serious Couple Goals
Christopher Polk/Getty Images Entertainment/Getty Images
Lady Gaga is a queen. And this queen is thriving. She's currently on the European leg of her Joanne World Tour, absolutely crushing every performance no doubt, and she's up for two Grammys this year with Joanne being nominated in the Best Pop Album category and "Million Reasons" being nominated for Best Pop Solo Performance. And that's just her career! The singer is mostly private about her love life (with some exceptions throughout the years), so who is Lady Gaga dating? Well, in case you didn't know, she's more than just off the market. Lady Gaga is engaged to Christian Carino!
Carino is a talent agent who works for the Creative Artists Agency (CAA). CAA is one of the most well-known talent agencies in the business, and Carino himself represents all of your favorite stars, like Miley Cyrus, Jennifer Lopez, Justin Bieber, Amber Heard, and more, according to People. We first saw Gaga and Carino together at the 2017 Super Bowl, where Gaga performed her iconic halftime show. She and Carino took selfies on the field before the game started. Those photos circulated and fans were immediately like, "Wait, who's that guy?!" They soon learned it was Gaga's boyfriend. Us Weekly reported in November that Gaga and Carino got engaged earlier in the summer.
This is what Carino looks like:
And here's a majestic photo of Gaga on tour just because I want to take some time to fangirl over her general existence:
Tag yourself. I'm the guy kneeling before the queen.
The first time we ever saw Gaga and Carino together was at the Super Bowl in 2017.
She doesn't talk about her relationship with Carino in interviews, but during one of her performances at Citi Field in New York City on a stop on her Joanne World Tour, Gaga took a second to gush over her fiancé, who was in the audience that night. It had been pouring rain all through the performance, leaving the audience and stage pretty much drenched since Citi Field is an outdoor stadium. While sitting at her piano, Gaga said,
When I went backstage, Christian was by the stairs making sure I was okay. The best part about being in love with someone is having them there to catch you if you fall.
Be still, my beating heart!! Mother Monster is in love!! According to Us Weekly, Gaga (31) and Carino (48) didn't have any wedding plans set as of November. They reportedly want to focus on improving Gaga's health before they start the wedding planning. (Gaga has fibromyalgia — a condition that is one of the main topics in her documentary, Gaga: Five Foot Two.) There's still no news on whether they've set their wedding date or not.
Gaga was previously engaged to Chicago Fire actor Taylor Kinney.
Kinney proposed to the singer on Valentine's Day in 2015, but their relationship was over by July of 2016. When they first broke up, Gaga posted on Instagram asking her fans to keep rooting for them, as she was hopeful they would get back together and make things work down the road. But she touched on her and Kinney's breakup in her Five Foot Two documentary, hinting that the pressures of her success contributed to the breakup. She said, "Me and Taylor are fighting, so that sucks. My threshold for bullsh*t with men is just — I don't have one anymore. In relationships, you have to move together." She added later in the film,
My love life has just imploded. I sold 10 million [records] and lost Matt. I sold 30 million and lost Luke. I did a movie and lose Taylor. It's like a turnover. This is the third time I've had my heart broken like this.
Gaga confirmed that "Million Reasons" is about her breakup with Taylor Kinney in an interview with Howard Stern for SiriusXM Radio.
She said, "I'm in need of human connection. 'Million Reasons' is about my ex, my father, and more." Lots of fans thought there was a chance Gaga and Kinney would get back together (they were together for five years by the time they broke off their engagement), but it wasn't in the cards.
Gaga seems to be super happy with Carino. Her gushing over him during her performance at Citi Field shows she's over-the-moon in love with this guy. We'll just have to wait and see if they show up at the Grammys together this Sunday, Jan. 28.
And now, I leave you with Mother Monster quite literally singing in the rain:
What a woman.