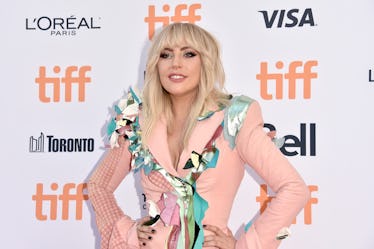 Lady Gaga Is Reportedly Engaged To Her BF & Fans Are Freaking Out
Alberto E. Rodriguez/Getty Images Entertainment/Getty Images
Mother Monster is getting married!!! That's right, little monsters: Lady Gaga is reportedly engaged to Christian Carino. According to Us Weekly, Gaga's boyfriend proposed to her in secret over the summer, and he even went the whole nine yards and asked her father's permission before doing so. *Swoon.* Elite Daily reached out to Gaga's team and Carino for comment, but did not hear back by time of publication. So who is Christian Carino? He's a 48-year-old talent agent for the Creative Artists Agency (CAA), and their relationship first went public when they were seen at the Super Bowl together before and after Lady Gaga's halftime performance. They've kept their relationship under wraps ever since and are reportedly taking their time with the wedding planning given Lady Gaga's current struggle with fibromyalgia.
Back when news of their relationship first broke, a source told Us Weekly that the pair was already very serious about their romance. The source said, "They are actually pretty serious. They're both really happy. It works." Though Gaga rarely talks about her relationship, she did have a sweet moment during her concert at Citi Field in New York City on Aug. 29. It started pouring rain during the concert, but Gaga kept on performing. At one point during the show, she revealed Carino was not only at the show, but he also went backstage between songs to make sure she was safe. She said,
When I went backstage, Christian was by the stairs making sure I was okay. The best part about being in love with someone is having them there to catch you if you fall.
I can't handle that at all. Nope! Not one bit. It seems like the two are super in love with each other. According to People, Carino represents A-list stars like Jennifer Lopez and Justin Bieber, but how they met is still a mystery.
Fans are absolutely freaking out over the news.
Some are heartbroken that this engagement pretty much locks in the fact that Lady Gaga and Taylor Kinney won't be getting back together.
Lady Gaga and Taylor Kinney dated for five years before calling off their engagement in 2016. At the time of their breakup, Lady Gaga posted an emotional Instagram about Kinney, saying even though they needed time apart, she still believed they were soulmates and asked everyone to send positivity their way as they tried to make things work.
Her post said,
Taylor and I have always believed we are soulmates. Just like all couples we have ups and downs, and we have been taking a break. We are both ambitious artists, hoping to work through long-distance and complicated schedules to continue the simple love we have always shared. Please root us on. We're just like everybody else and we really love each other.
Given this post, lots of fans believed Gaga and Kinney would one day get back together, but it doesn't look like that's going to happen anymore.
These photos of Lady Gaga and Christian Carino make it obvious how much they love each other.
Gaga revealed earlier this year that she suffers from fibromyalgia, a chronic pain disorder that causes "widespread pain and tenderness" to the muscle and bones, according to the National Fibromyalgia & Chronic Pain Association. On Sept. 18, Gaga announced in an emotional Instagram post that she was postponing the European leg of the Joanne World Tour to focus on her illness. She will reportedly go back on tour in early 2018. In her post, she said,
I have always been honest about my physical and mental health struggles. Searching for years to get to the bottom of them. It is complicated and difficult to explain, and we are trying to figure it out. As I get stronger and when I feel ready, I will tell my story in more depth, and plan to take this on strongly so I can not only raise awareness, but expand research for others who suffer as I do, so I can help make a difference. I use the word "suffer" not for pity, or attention, and have been disappointed to see people online suggest that I'm being dramatic, making this up, or playing the victim to get out of touring. If you knew me, you would know this couldn't be further from the truth. I'm a fighter. I use the word suffer not only because trauma and chronic pain have changed my life, but because they are keeping me from living a normal life. They are also keeping me from what I love the most in the world: performing for my fans. I am looking forward to touring again soon, but I have to be with my doctors right now so I can be strong and perform for you all for the next 60 years or more. I love you so much.
Her Netflix documentary, Gaga: Five Foot Two, gives an up-close-and-personal look into her struggles with fibromyalgia as well as her relationship and breakup with Taylor Kinney.