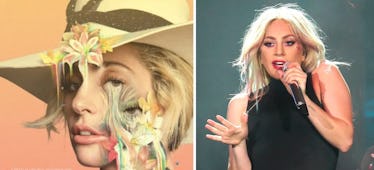 Lady Gaga Announced A New Documentary And The Clips Look So, So Emotional
Instagram/Christopher Polk/Getty Images
Calling all little monsters: As you probably already know, today is a pretty big day in pop music news: the VMAs are this weekend, Katy Perry just released her music video for "Swish Swish," and Taylor Swift is only hours away from dropping the lead single from her forthcoming sixth studio album Reputation. All of that falls by the wayside for us Gaga stans on this glorious day, though, because, just recently, Lady Gaga's Netflix documentary Gaga: Five Foot Two was announced and teased in short clips on her Instagram and I think I speak for all of us when I say we're freaking outttttt.
Five Foot Two was announced via a series of 12 Instagram posts on Gaga's page, five of which are video clips that tease scenes from the documentary. The 12 posts come together to create one larger image when you go to Mom's page and, naturally, the aesthetic is as gorgeous as you would expect from Stef. I've gotta warn you before you watch, though, the videos are emotional and show Gaga in a light we've only seen scarcely before. In the first of the teasers, Gaga's tearful voice can be heard over a video clip of her submerged under water —seemingly drowning — before she comes up above the water for air. She's saying,
I'm alone Brandon [Maxwell]... every night; and all these people will leave, right? They will leave, and then I'll be alone. And I go from everyone touching me all day, and talking at me all day, to total silence.
Other clips show Gaga preparing for her brilliant Super Bowl halftime performance and in a doctor's office being treated with injections for what is most likely chronic pain. Clearly this documentary will show us a palpably vulnerable side to a woman who exists in the public eye as an emblem of confidence, strength, and stability; importantly, perhaps this open look at Gaga's behind-the-scenes life will serve to humanize a name that's become larger than life, and to remind her millions of fans, worldwide, she is more than a source of endless entertainment.
Gaga: Five Foot Two is set to premiere at the Toronto Film festival and will hit Netflix on September 22, so get ready to snuggle up with a box of tissues and a blanket, guys.