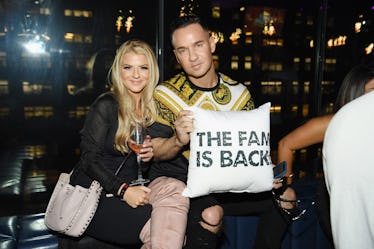 The Situation Proposed On 'Jersey Shore Family Vacation' & It Was Honestly Beautiful
Dave Kotinsky/Getty Images Entertainment/Getty Images
It turns out, Jersey Shore Family Vacation is not only about watching Ronnie's relationship fall apart; it also includes a few rare actually romantic moments. That is what Thursday night's new episode delivered in full force, as The Situation proposed on Jersey Shore Family Vacation to his long-time girlfriend, Lauren Pesce. I mean, yeah, we all watched Mike Sorrentino be a total douche for years on TV back in the day, but The Situation really does seem to have changed for the better nowadays and his proposal to Lauren was surprisingly very sweet.
Jersey Shore Family Vacation has been building up to Mike's proposal for a while now. Previous episodes focused on Mike telling the rest of his castmates about his plan to propose, and last week he finally got the ring. There were a few times it looked like his proposal might wind up being a trainwreck — JWoww almost exposed everything when she found out Mike was planning a prank on her, Ronnie's sadsack act over his troubled relationship really drained the energy from the house, and of course, Snooki and the rest of the gang were not exactly the most productive team at preparing the house for the big moment at first. But in the end, the Family Vacation house looked beautiful and the proposal went off without a hitch.
When Mike and Lauren returned from dinner, the rest of the cast had successfully turned the house into a balloon-, flower-, and candle-filled utopia. In the back yard, Mike revealed a massive screen full of pictures of himself and Lauren, as well as a quote about her loving him when he did not love himself that really got everyone misty-eyed. Finally, Mike got on his knee and asked Lauren to marry him, and she she said yes!
Of course, that is not really a surprise to Jersey Shore fans, since Mike Sorrentino and Lauren Pesce revealed that they are engaged a couple months back, but it was still really nice to see the proposal for ourselves. Mike recently stated that he had wanted to do a televised proposal on Jersey Shore ever since he knew he wanted to marry Lauren, but unfortunately, the show was no longer around by that point. That is why he was so excited to sign on for Jersey Shore Family Vacation and finally get to execute the dream proposal that he has been waiting for.
As for the big wedding, fans will have to wait to see what the couple is planning. Mike did reveal that they are currently looking at venues and cake testing, and that some of their wedding planning will be shown in the next season of Jersey Shore Family Vacation, which is being filmed in Las Vegas. And hey, since it is Vegas, maybe we will see the wedding for ourselves in a special episode of Season 2? Who knows!
Mike Sorrentino and Lauren Pesce's love story has not always been a steady one. The two actually met and began dating when they were both in college, but they ended things in 2009 right around when Mike was cast on the first season of Jersey Shore. Once Jersey Shore ended in 2012, Mike and Lauren rekindled their romance and have been together ever since, although they did have enough relationship drama to appear on Marriage Boot Camp: Reality Stars in 2015. As is evident in his proposal, Mike credits Lauren for sticking with him during his struggles with addiction (he is now sober) and his public legal battle after being charged with tax evasion. It really is nice to see that The Situation is just Mike now, and his relationship with Lauren could not be going better.