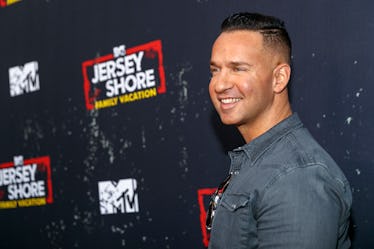 These Details About The Situation's Wedding Will Make 'Jersey Shore' Fans Freak Out
Rich Polk/Getty Images Entertainment/Getty Images
Seeing Mike "The Situation" Sorrentino propose to his longtime girlfriend Lauren Pesce on this week's Jersey Shore Family Vacation will be a full-circle moment I never thought we'd see. Who would have thought that the head meatball would end up in a meaningful, adult relationship and still get to propose with his fellow guidos and guidettes surrounding him? Lauren accepted his heartfelt proposal, and before they pop out any babies that will join Jersey Shore's next generation, they have a wedding to plan. These details about The Situation's wedding will make longtime Jersey Shore fans totally flip. Fingers crossed for a televised wedding!
Since getting engaged in April, The Situation and Lauren haven't officially committed to any serious wedding plans, but it seems that pulling off an epic proposal on Jersey Shore Family Vacation was the first big task on Mike's to-do list. He recently told Entertainment Tonight:
I always dreamed of doing a proposal on Jersey Shore, and for years we didn't have Jersey Shore. So when it came back to the forefront and everyone was going, I was like, 'You know what? I'm going to do it.' And finally I was able to do it. My best friends were all there. We did it in such a big way…It is so dope.
College sweethearts Mike and Lauren split for the first time in 2009 before getting back together as Jersey Shore completed its run in 2012. Since then, they've been Jersey strong together, and although Mike says that he has yet to pick one of (or, y'know, all) his Jersey Shore boys to be his best man, he and Lauren have tried to sort out some of the big day's details. He told ET:
We are in the beginning steps of the wedding planning mode. [We] started doing the cake testing, and looking at a number of venues and different locations. But so far the best thing has been the cake testing. We're thinking about having two cakes. One for the wedding and one funfetti cake for the groom.
Well, if there's anything that the revival series has taught us so far, it's how much Mike loves his funfetti cake.
Although Mike's ultimate dream is to have their wedding in Italy, a big destination wedding might not be in the cards for him and Lauren. While we may have to wait a bit longer for the spilling of a official wedding location, The Situation did tease to ET that Season 2 of Jersey Shore Family Vacation, which is filming in Las Vegas, may feature some of their wedding planning, saying about the possible footage:
I believe so, yeah. I can't say anything, but I already did.
Classic Situation.
Although the engagement news is out in the open, fans have yet to see exactly how Mike popped the question. Last week's Jersey Shore Family Vacation episode ended moments before the actual proposal, and MTV's preview of the special event in this week's episode hints that everything will come into place...well, eventually. It isn't a Jersey Shore surprise without the cast scurrying around like headless chickens beforehand, right?
Any woman who takes on The Situation is a rock star, and from what we've seen of Lauren on the show, she's Mike's perfect fit. We're still waiting for her reaction to the surprise proposal, but on her own Instagram page, she dropped a spoiler alert about how it turns out. Girl, I'm not even mad.
It doesn't matter that we know what's coming. Mike is getting married, his fiancée is excited, I'm excited, we're all excited!
I'm so ready to cry along with the Jersey Shore girls and, let's be honest, the two other parts of MVP when the proposal airs. I never thought I'd see the day when I got emotional over The Situation, but times change.
Jersey Shore Family Vacation returns on Thursday, June 21, at 8 p.m. ET on MTV.