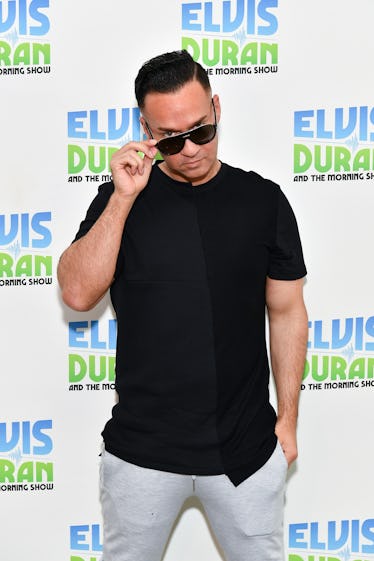 Mike Sorrentino From 'Jersey Shore' Just Got Engaged, So Get Ready For Mrs. Situation
Dia Dipasupil/Getty Images Entertainment/Getty Images
Looks like we've got a gym, tan, diamond situation happening here, guys. That's right — reality star Mike Sorrentino has officially put a ring on his longtime girlfriend! The Situation is engaged to Lauren Pesce, and I don't know about you guys, but I am seriously stoked for a Jersey Shore wedding. Fist pumps all around, because you just know it's going to be fresh to death. In the meantime, I'll just be over here waiting for the couple to tap Michael Bolton to perform, because OMG this totally needs to happen!
Sorrentino broke the big engagement news with a bunch of super-cute posts on Instagram. "SHE SAID YES !!!" he wrote in one. "THE FUTURE MR & MRS SITUATION," he added in another. And then finally, "GYM TAN WE'RE ENGAGED!!" he announced in a third. I am loving his use of all caps here, because the dude is just so excited and it's all really adorable. I do have a few questions, though: Like, will the VP part of the Mike, Vinny, Pauly MVP alliance make up the wedding party? Will Snooki get drunk and lose her engagement ring? Will Pauly D DJ the event? Will they serve Ron Ron Juice? And, most importantly, will there be a mandatory tee shirt time before the nuptials?
According to Us Weekly, Mike and Lauren met in college, and dated for four years before he joined the cast of Jersey Shore in 2009. If you watched the show, you know they must have taken some sort of break while filming, since Mike was constantly on the prowl and DTF. But the two found their way back to each other when the show wrapped in 2012, and they've been together ever since.
Even so, Lauren admitted to Us Weekly back in 2015 that she was NOT a fan of his behavior on the show. "I definitely didn't follow some of the crazy stuff going on in Jersey Shore," she said. "I didn't like a lot of the things he did, but we weren't together! I was just glad he had found success."
And I'm glad he found his way back to Lauren, who sounds like a serious keeper! Mike recently revealed that he's been a member of Narcotics Anonymous for the last two years, and recently told People that not only did Lauren stick by him during his darkest days, she's also been a huge part of his recovery.
Meanwhile, Lauren also shared the big engagement news by posting a video on her Instagram Story that showed her happily walking down the Jersey Shore boardwalk. Check out this screenshot:
Mike shared a similar video on his own Instagram story:
So cute, right? And does this mean we'll get to see the whole thing go down on a future episode of Jersey Shore: Family Vacation?
"I have always dreamed of proposing on Jersey Shore, the show that introduced me to the world," Sorrentino explained to Us Weekly. "I'm currently living the dream and proposed to my college sweetheart, Lauren Pesce, amongst my best friends on the biggest reality show in the country. We are so proud and excited to share this chapter of our story with the world."
Cannot WAIT! In case you somehow missed all the hype, Jersey Shore is back on TV with a revival of the iconic reality series set in Seaside Heights, NJ, almost a decade after the first season aired. It def sounds like we'll get to see the engagement on the show, but is MTV also planning to air a Mike and Lauren wedding special? Becasue TBH I would be so here for that and you just know it would be a big, shiny piece of reality gold.
Yeahhhh, buddy!