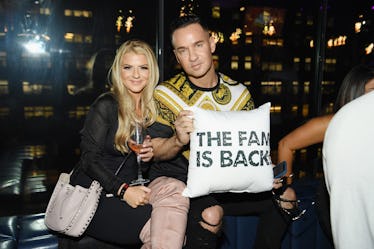 8 Facts About The Situation's Girlfriend That Will Make You Fall In Love With The Couple
Dave Kotinsky/Getty Images Entertainment/Getty Images
If you watched the premiere of Jersey Shore Family Vacation, you know that a few things have changed for the Jersey Shore crew since they first hit the clubs. Nicole and Jenni are married with kids, Ronnie just became a dad, and Vinny and Mike "The Situation" are in committed relationships. Mike, especially, is in a totally different place than he was when the show ended in 2012: He's been sober for over two years, he's a proud member of Narcotics Anonymous, and he's totally obsessed with his girlfriend. So, who is Lauren Pesce, the woman who tamed The Situation? Mike's college sweetheart can pretty much do anything, and it's only a matter of time before the whole world falls in love with her, too.
At the beginning of Jersey Shore Family Vacation, Mike let fans in on his life pre-Miami, and that's when they got to meet Lauren, his longtime girlfriend. The two are beyond sweet together, so it's no surprise Mike fell for her after he was finally ready to put his fist pumping days behind him. Seriously, today's Mike is totally different than the one you may remember from the original Jersey Shore, and it's amazing. He's thoughtful, not super dramatic, and much, much calmer than he used to be, and America (and his roommates) likely have Lauren to thank for that. Props, girl, for totally transforming The Situation.
Here's everything you need to know about the woman who's changed Mike's life for the better.
1. Lauren And Mike Were College Sweethearts
Lauren first met Mike when they were in college (before his Situation days), and the two dated for nearly four years. According to People, they took a break when Mike joined Jersey Shore in 2009, which was probably for the best, considering Mike was definitely not interested in being in a relationship during his early days on the show. That being said, there wasn't any bad blood in their breakup. "We had gone our separate ways, but we parted on good terms and always kept in touch," Lauren told Us Weekly in 2015.
2. They Got Back Together After Jersey Shore And Have Been Together Ever Since
After Mike finished filming Jersey Shore in late 2012, he and Lauren reconnected, and the timing finally seemed right to continue their relationship. They have gone through plenty of ups and downs in the almost six years since, but they've stuck together through it all.
3. Lauren Isn't A Huge Jersey Shore Fan
Lauren and Mike may have been broken up during the time he was on Jersey Shore, but Lauren admitted to Us Weekly that she still didn't totally approve of his antics. "I definitely didn't follow some of the crazy stuff going on in Jersey Shore," she said. "I didn't like a lot of the things he did, but we weren't together! I was just glad he had found success." It sounds like Mike has definitely found his more mature half.
4. She Has Some Reality TV Experience
If you're wondering why Lauren looks familiar (apart from her frequent appearances on Mike's Instagram), it's because she and The Situation appeared on Marriage Boot Camp: Reality Stars in 2015. Mike said the show was great for their relationship, and he insisted it made them "a stronger couple." While it was more than a little different from Jersey Shore, Marriage Boot Camp encouraged Mike to open up and express his emotions:
It was a totally different experience for me. It definitely was an eye-opener for sure. It made me vulnerable and open up. We learned a lot about each other.
5. Apart From Her Reality TV Experience, Lauren Works As A Blogger And Realtor
Lauren runs The Style Bae, a lifestyle blog that shares fashion, beauty, food, and fitness tips. According to her bio on the blog, Lauren is "a fashion buyer, bar(re) enthusiast, lifelong blonde and lover of all things golden" who has worked her way up in the fashion industry. She's worked as a buyer at Saks Fifth Avenue and Macy's and has also interned at Elle, Chanel, and Bergdorf Goodman, according to her LinkedIn. When she's not blogging, Lauren works as a real estate agent for VRI Homes in Monmouth County, New Jersey.
6. Lauren Is A Big Part Of Mike's Recovery
Mike revealed on Jersey Shore Family Vacation that he's been a member of Narcotics Anonymous for two years now, and Lauren is a big part of his commitment to staying sober. In April 2017, Mike told People Lauren has been with him at his lowest of lows, including when he almost relapsed in 2015. Mike cracked his ribs at the gym in June 2015, and as he and Lauren were driving to the hospital, Lauren "was pleading, 'You know [painkillers] are not good for you — whether they're doctor prescribed or not. You've been down this road before,'" he remembered. But at the time, Mike was hesitant to listen. He said, "I really had the excuse at the time, you know, that it was under doctor's orders." Mike continued to have struggles, but he was able to recover thanks in part to Lauren's constant support.
7. Rumors Are Swirling That She And Mike Are Engaged
For years, unconfirmed reports that Mike and Lauren are engaged have swept the internet. While nothing has been confirmed yet, it's clear the two are ready for marriage and can't wait to commit to each other for good. In July 2017, Mike told InTouch he's thinking about proposing:
Me and my lady are moving in the next step of our personal life and are moving towards getting engaged. I'm trying to keep it somewhat of a surprise to her because she's around me all the time, but she understands the situation we're in.
That's quite the, um, situation for The Situation to deal with.
8. Don't Worry: You'll See Lauren In Miami
Do you really think Lauren would leave her man all alone in Miami? While she's certainly not living in that lavish house with Mike and his roommates, Lauren was down in Florida during filming, so it's likely fans will see her on camera at some point. MTV can't hide her from us for long!