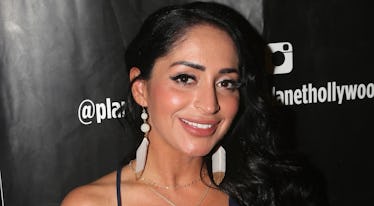 Angelina Got Real About The One 'Jersey Shore' Member She Was Scared To See – EXCLUSIVE
Bruce Glikas/FilmMagic
Jersey Shore Family Vacation bills itself as a reunion series, and this week, the reunion got realer than ever. Angelina Pivarnick was a source of pretty much all the controversy and fighting in the first two seasons of Jersey Shore, before she packed up her infamous trash bags and returned to Staten Island, never to return to the Shore House again. Until now, that is. Angelina opened up about her intense return to Jersey Shore with Elite Daily, describing what was going through her mind when she was asked to reunite with a cast that had not spoken to her in the near-decade since she left the show.
Ahead of her explosive guest stint on Jersey Shore Family Vacation, Angelina revealed that the friction between her and the rest of the show's cast is not just for the cameras. She admitted that she has had no contact with anyone else from Jersey Shore since she left the show back in 2010, and she was both excited and nervous to see them again: excited because it gave her a chance to bury the hatchet, and nervous because she was very aware of the fact that she was persona non grata among the otherwise tight-knit cast:
"I was really excited, but I was also very nervous. You've got to understand, from nine years of just having turmoil with these people, and problems and drama. None of them liked me. They didn't get to know me and I didn't get to know them. I was kind of like, "I need to bury the hatchet, I need to go back. I need to say my piece and hear their piece. I want to have them get to know me for me. I want to get drunk and wild with them, I want to go crazy with them." I wanted to be part of the family. That's what my mind frame was walking into the house: "I'm going to say my piece, and if they don't like it, too damn bad." I'm still a bitch, but at the end of the day, I wanted them to get to know me. And I wanted to party with them."
Angelina admitted that watching Jersey Shore's continued success after she left the show in Season 2 took a toll on her. While she was happy for her former castmates, she understandably felt a lot of regret over choosing to walk off the series — "I was like the Beatle that left, you know?" — but also shared that she just could not imagine living in the same house with a certain Jersey Shore cast member anymore: "On the second season, let's be realistic, I walked out because of [Mike]. I had to leave. He was just so terrible to me and I couldn't deal with it any longer, and I do blame him for that, I'm going to be honest with you."
But despite her intense issues with Mike "The Situation" Sorrentino in the past, Angelina was actually able to make up with Mike pretty peacefully after she walks into the Jersey Shore Family Vacation house. She said that out of all the cast members, Mike is definitely the most changed, and that she is a big fan of his new, calmer persona.
After patching things up with Mike, Angelina had to worry about the rest of the house. She teased that her stint on the show was "really intense and a lot of drama," and that she was especially worried about seeing Jenni "JWoww" Farley again. Angelina said that JWoww was the person she was most nervous to see again out of everyone in the house: "I kept telling my fiancé, "JWoww is going to beat the sh— out of me. Jenni's going to kill me. If I don't come home, understand why." ... I know she throws fists, so I was like, 'Oh sh—, what if I get into a fist fight with her right now?' She's scary, man!"
One castmate that Angelina did not have to worry about was Sammi "Sweetheart" Giancola. The former Jersey Shore star was the only member of the original cast to not return for the reunion series, and Angelina was fully supportive of her choice: "I understand her decision, I get it. I've been in really dysfunctional, bad relationships in the past, and you feel like you don't want to be next to toxicity, you just want to stay away from it ... There's a lot of history between her and Ronnie, so I don't think her decision was bad at all."
As far as the future, Jersey Shore Family Vacation has already been picked up for a second season, and Angelina is not writing off being a part of it as an option, although she can't talk about that just yet. She did share that she thinks her time on Family Vacation really helped mend the relationships she had with her castmates. Hopefully, now they will not go another nine years without speaking.
Jersey Shore Family Vacation airs Thursday nights at 8 p.m. ET on MTV.
This article was originally published on