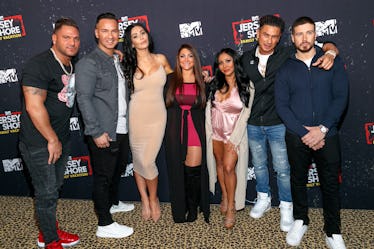 The 'Jersey Shore Family Vacation' Cast Is Making "Reality TV Great Again" – EXCLUSIVE
Rich Polk/Getty Images Entertainment/Getty Images
The moment they walk in the door, Nicole "Snooki" Lavalle, Paul "Pauly D" DelVecchio, Deena Cortese, Vinny Guadagnino, Mike "The Situation" Sorrentino, and Ronnie Ortiz bring a strong air of familiarity. It's clear that this cast is authentically themselves. While "your Uber is now arriving" has replaced "cabs are here," all-natural, organic self-tanner is used in lieu of tanning beds, and people are flossing instead of frolicking on the dance floor, the cast of MTV's Jersey Shore is still as close as they were 10 years ago. Fans watched for six seasons as the housemates drunkenly fist-pumped their way from the Jersey shore to the Miami beaches to Florence, Italy. Now, nearly a decade since the first season aired, the Jersey Shore cast is BACK, b*tches and, according to Snooki, "fans are going to die."
Elite Daily sat down with Jersey Shore Family Vacation cast, minus Jenni "Jwoww" Farley, to talk about the upcoming reunion series. Since the series ended in 2012, the castmates have all publically said they're open to a reunion, so why now? Pauly D. sums it up:
I feel like the world needed it now more than ever. Because with all the negativity out there, it's good to have something they can watch and like and laugh... and take the vacation with us, so I think now is the perfect time. Because we went away for a little while, gave you a chance to miss us and we're going to bring it back and make reality TV great again.
Of course, a lot has changed since the show first aired. Vinny, who was only 22 years old during Season 1, explains how the first season compares to now.
I think that like everything is different, but everything is the same. It's like the perfect blend. We're definitely going through different things in our lives right now in our 30s, but when you put us in that house together, everyone has the same mannerisms — everyone goes hard the same way. Actually, we go harder this time because now we got to escape from our real lives and real responsibilities whereas before, going out down the shore was just our life. Now we're like, we need an escape, we need to go hard... and we went out every night.
Although time has transformed the once 20-something cast into a group comprised of two mothers (Snooki and JWoww), one father (Ronnie), one married woman (Deena), two men in relationships (Mike and Vinny), and only one bachelor (Pauly)*, Deena assures fans that they're all still a blast in a glass.
I actually think we're more dramatic this time, because we're so close now. You can see even more drama because we're not afraid to say what we're feeling to each other because we know at the end of the day we are brothers and sisters and we could at the end of the night go get a drink and be like screw it, it's all under the bridge. I think it was awesome this time, we really gave it our all.
*NOTE: Please don't worry about Pauly. Along with Deena's promise for drama, Pauly assures fans that he still "found a lot of love in the club, and a lot of love after the club."
Aside from babies and wedding bells, since the show's ending, Mike Sorrentino has undergone the biggest transformation of them all. After two stints in rehab for prescription drug abuse, The Situation is now 28 months sober. Speaking about his experience this time around, the former partier says,
I had to challenge myself to party a little bit different, I had to have fun and dance and be around my friends and come from a place of staying in my own lane and running my own race and being grateful to be a part of this journey once again.
Jersey Shore Family Vacation is premiering in 180 different countries on MTV at 8/7c on Thursday, April 5. If that surprises you, you're not alone. To quote Ronnie Magro, "I don't even know 180 countries, I think they just made up countries just to show the show in." But geography be damned, the Jersey Shore cast is here to stay.